Pho, Anyone?
One of the most exciting additions (in my opinion) to Vanderbilt's newly renovated Alumni Hall is Bamboo Bistro, a brand new concept rolled out by Vandy Dining at the beginning of this semester. This charming café-style eatery on the first floor of Alumni serves Vietnamese sandwiches, fresh fruit, gourmet teas, and desserts. But who needs all that when pho is available?
As I am somewhat of an Asian food novice, pho did not enter my life until several weeks into this semester when a friend convinced me to try out the new dining location. As soon as I saw the steaming pots of broth, the pot of noodles, and the neatly arrayed containers of toppings, I knew I had discovered something beautiful. For those of you who are not acquainted with the magic of pho, like me at the beginning of the semester, it is comprised of broth, noodles, and a variety of protein and vegetable toppings. At Bamboo Bistro, one chooses either chicken or vegetable broth; a protein, such as chicken, beef, or tofu; and ALL THE OTHER TOPPINGS HE/SHE WANTS. Said other toppings at Bamboo include carrots, bean sprouts, kim chee, green onions, mint, cilantro, hot peppers, garlic, peanuts, etc. It is DELICIOUS.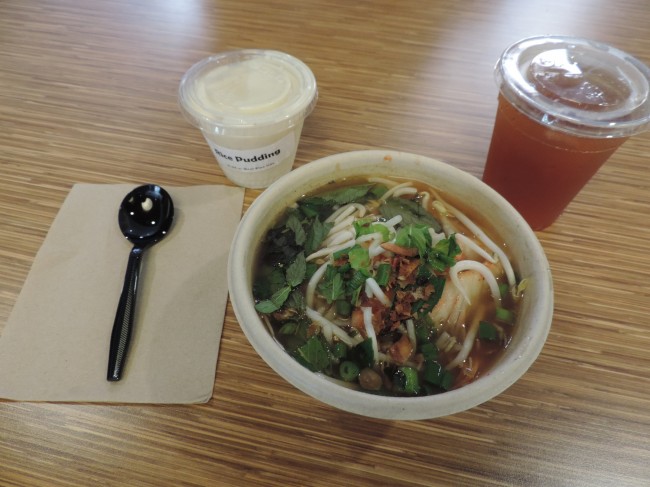 And the best part is Bamboo Bistro is included on the meal plan! A typical meal at Bamboo includes an entrée (pho or sandwich), a side (fruit, rice pudding, etc.), and either raspberry or mango tea. Though the pho is my favorite, everything I have tried there has been wonderful. Every Friday, I go straight from my organic chemistry lecture to Bamboo, doing my speed walk to avoid the potentially long lines during lunch rush. Unfortunately, due to the specifics of my meal plan and my affiliation with McTyeire International House (more to come on that later!), this is the only chance I get during the week to eat there. But on the bright side, at least I know I won't get tired of it!