Melodorable
Every fourth Friday of the month, a different organization performs in New Rand. Groups like Vibe, Momentum, and Tongue N Cheek have all entertained audiences in the past, but this past Friday (technically the third Friday of the month but Parents' Weekend falls on the fourth Friday) was especially awesome because it was the Melodores's turn.
The Melodores are an all-male a cappella group that has competed in the ICCA before (the competition they mention in Pitch Perfect). The best part though? Nathan and Rani are both members! Nathan was even front and center on the poster advertising the event!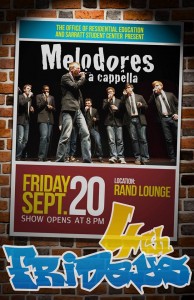 The concert began with some contemporary pieces like Mirrors, by Justin Timberlake, and Radioactive, by Imagine Dragons. Then they sang a medley of songs about California, because they're traveling there for fall break. With every song they performed, I was more and more impressed. Lots of different members had solos and each one was so perfect. My favorite performance was when the four new freshman members sang We Can't Stop by Miley Cyrus.
So basically I was serenaded by some super talented and melodorable boys without paying a cent. I could get used to it.