The Dorm Life
This year, I upgraded. Just like the Tennessee Titans upgraded their offensive line (Super Bowl here we come), I got to upgrade my dorm experience. I moved from a "Harry-Potter-Under-The-Stairs" single to a big and fancy four person suite aka prime real estate.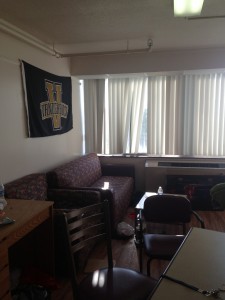 For the rest of the year, I will be living in Morgan House on the 7th floor with an excellent view (blocked by a large tree) with three of my other friends. I would give dimensions and such to make it sound more sophisticated, but I don't know them. There are two bedrooms, a bathroom, a large closet, a kitchen and a living room. The best part is that there is a convenience store in the basement of the dorm building, commonly referred to as the Munchie Mart, and it's OPEN 24 HOURS. That means you will NEVER go hungry again.
Also, Morgan house is located right next to the recreation center which is extremely convenient if I ever decide to actually go there. I also have a decent view of the soccer field so if I want to listen to the soccer announcer, all I need to do is open the window.
The only bad thing about Morgan is that it is slightly far away from the "main campus" in that its a bit longer of a walk to get to classes. But, exercise is good for you. If you fear that you'll be too far away from the cafeteria, there is a Quiznos on Highland Quad that is on the meal plan. If you don't like Quiznos, refer to previous point about exercise.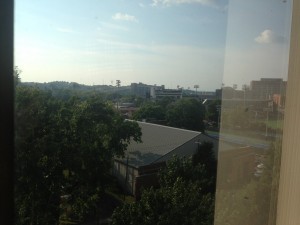 The only negative I have to say about the Morgan Quad itself is that originally the suite was for three people and so the two rooms were a single and a double but due to ongoing renovations at Kissam, two people are required to live in the single to make four people total for the suite. Its an unfortunate circumstance but the good thing is that the construction at Kissam will be done by the end of this school year and the new dorms will be open for my Senior Year. I hear that these dorms are impressive. Next year, I hope to upgrade once more to these new dorms.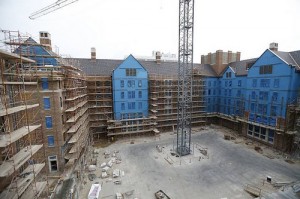 I saved the best part for last. I recently found out Andre Hal and Jonathan Krause, who are both set for a great senior years, live down the hall from me. I will indeed be taking all credit for their success as I play a vital role in maintaining a positive living environment.
Ole Miss in two days.
Anchor Down.