Restaurant Recon
Once a week, the student workers in the Office of Undergraduate Admissions go to dinner together, in an effort to get out and explore the food side of Nashville.  Each week we pick a different local Nashville restaurant, and in this post, I present to you–in no particular order–a list of my top 3 favorites so far!
Desano Pizza: My new favorite pizza place in Nashville!  It's a no-frills, authentic pizza joint, which I'm a big fan of.  Victoria and I went again when her mom was here visiting, and it was equally delicious the second time around!
Bobbie's Dairy Dip: After last Friday's PreVU day, all of the OUA student workers headed out to Dairy Dip for dinner and ice cream! Since it's only open in the warmer months, this was only the second time I'd been there–the first being the summer before my sophomore year.  It was a glorious reunion between me and the chocolate-and-sprinkle-dipped ice cream cone.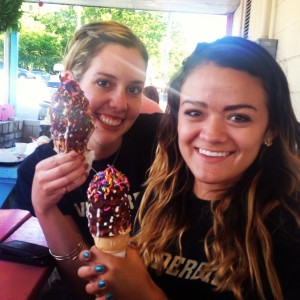 Tavern: We had a delightful OUA brunch at this Midtown restaurant.  Though it's very popular with Vanderbilt students, I had never been before so this was a prime opportunity to experience it–and believe me, I'll be going back ASAP.  I wish I could accurately describe the heavenly taste of the red velvet waffle that I experienced there, as well as the huevos rancheros and hash browns.  You'll just have to go try it out for yourself!
In conclusion–Nashville has delicious food, and spending the summer here has provided ample amounts of time for eating at all of these delicious places!