How to Get Involved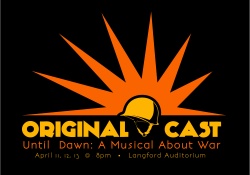 This weekend I've been realizing just how easy it is to get involved on campus and how much fun it is to interact with people who are not from your stereotypical social circle.  This was brought to my attention when I started working as the house manager for the Original Cast's show Until Dawn: A Musical About War.  I got the position because both the stage manager and I are actively involved in Vanderbilt University Theatre shows and she needed someone to help out.  After my position as an ASM for Good Person pushed me to miss out on several Victory rehearsals, I wanted to make sure that whatever work I did with theatre at that point was not detrimental to the other activities.  And this worked out perfectly!
To be house manager, you come an hour before the show to brief the ushers on how/where to hand out programs and rip tickets.  The first night we also spent a while stuffing the programs with surveys.  After the show starts and the doors close, I can choose to watch the show, do homework, or anything else.  I simply need to be back when the show ends at 10pm to collect programs and set up for the next day.  In terms of theatre, that is a super-relaxed time commitment and I enjoy being able to be a part of the show.

Another one of my jobs was securing enough ushers for each of the nights.  The way I did that was by contacting the Vandy community through listservs and posting on Facebook.  Out of the blue, I got a huge chunk of volunteers from Alpha Phi Omega, Vanderbilt's service fraternity.  That meant that I got to work with a bunch of new people I had never met before and they were all awesome!  Most of the time the theatre community overlaps and so you end up working with the same people over and over again.  That is absolutely not a bad thing because I love theatrical people, but it is always fun to meet new people and get them involved as well.  Most of my volunteers had never done anything with Cast or theatre in general before this.  Some of them had never even seen the shows!  And after this experience they're gung-ho about helping next time. :) That just goes to show you that no matter your schedule, you can get involved all around campus.  You might find your niche, but you can always branch out and meet even more people if you so desire.
…Until next time!