Frozen Frolicking
I've been waiting and waiting and WAITING for this day to come. It finally snowed! What was first frankly a few flurries flourished into a flutter of fantastic flakes, fitting for the frigid temperatures we have been facing in the last few days before February.  (See what I did there? Fantastic alliteration. *pats self on back.  My poetry professor would be so proud.)
At around 10:00 tonight, after finishing up with worship and community groups at the BCM at Vanderbilt Place, frozen precipitation started falling from the Nashville sky, so we, obviously, ran outside to spin around in it and collect snow on our eyelashes. One thing led to another, and a snowball fight ensued, A snow-monkey was created on a picnic table and hands and other extremities were frozen numb.  I loudly proclaimed that my fingers needed to be amputated several times, but no one heard me.  Sometimes I just yell ridiculous things, so I think people must be used to it.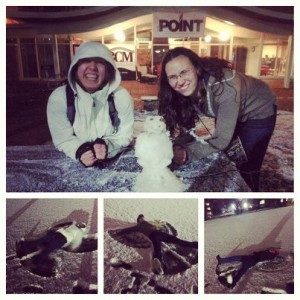 We headed back to Vandy Barnard, where I reside, but we just couldn't help but stop on Alumni Lawn to make snow angels.  The field was just so perfectly white and untouched, which made it the more satisfying to run through.
My sweet friends were toasty warm and busy studying, per usual, on floor 4 of Vanderbilt Hall when we came back, but it didn't take much to persuade Big Money (our friend Monica) to throw on shoes to come play outside with us.  I think there's a massive test in Circuits tomorrow (all of my friends are engineers), but who needs circuits when you can throw balls of ice at people's faces? We recruited a few boys from the floor below us as well. Look mom, we're so good at making friends!
While, admittedly, there weren't inches and inches and inches of snow, it WAS good for packing and making snowballs.  Some guy on Alumni Lawn was hard at work making the biggest ball of snow I've ever seen. Cupcake (the unfortunate nickname we have come up with for a boy who lives in our dorm) managed to lose his phone and room key in the snow, but they were eventually found, hooray!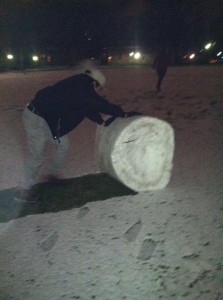 The point of this rambling tale is that I am so happy to go to a university where people will be hard at work studying one moment and rolling in snow the next. We are oh-so-well-rounded. And so are our snowballs.