Its Always Fair Weather (at Vandy)!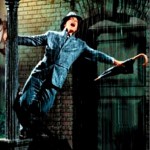 Vanderbilt Students: we moan, we complain…over the weather. One minute, it's shining, the sun is blaring in your face, your skin is soaking up as much Vitamin D as it can for the next three days of rain, storing it up like a camel stores water for the desert trail. Yes, our weather is pretty unpredictable.
But, when it rains, I get a special kick out of it: I put my colorful pink/blue rain boots on and jump in puddles (ignoring the awkward side glances from passers-by) and hum to (occasionally blessing those around me with my crackly voice) the tune of Singing in the Rain. It brings back wonderful memories of me watching the movie for the first time with my dad. It was a stormy day and the rain trickled down the thatch roof of my home in Mozambique as I attempted to watch the movie on my computer's dying battery (the lights had gone out–pretty typical).
Needless to say, there is a special place in my heart reserved for my Gene Kelly obsessions and random spurts of enthusiastic shows of my dedication to his awesome. So when my friends (see: Cassie's BLOG: for further weekend activities:) this weekend told me that the Belcourt Theatre was showing It's Always Fair Weather as the last movie of a special 100th Birthday Celebration Series dedicated to Gene Kelly, I just asked what time it was. Thanks to FlICX Vanderbilt, we didn't pay a dime.
Walking over, the ground was damp, the weather a cool 75 (or 23 Celsius for my metric buddies)…everything was perfect for getting into the psych. The Belcourt's regal set up: velvet chairs, classy popcorn (yes, that happens), and fantastic audience were the cherry on the top. The movie was a glorious explosion of epicness: Dan Dailey went through what must be the most entertaining representation of a midlife crisis I have ever seen: broken crystal, art-savvy insults, a shaved mustache and much more fun, Dolores Gray rocked my world with her eccentric persona, boxes of Klenzrite-a cleaning soap-, and fabulous bedazzled outfits frilled with red fur. However, what really tickled my heartstrings, was Gene Kelly's fantastic song: 'I Like Myself' when he sang and tap danced on roller skates, capturing colossal meaning in a few simple statements.
http://youtu.be/i6pNwRJf324
When the movie ended, it was followed by a Skype session with Gene Kelly's widow, Patricia Ward Kelly projected on our film screen. Our audience of about 20 people got to interact with her and learn surprising new things about Gene Kelly (yes, some name-dropping was involved: she did casually mention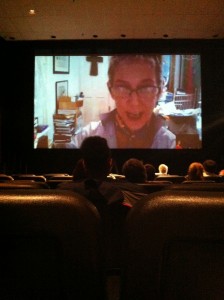 Rita Hayworth, Hugh Jackman and Justin Timberlake among other things). What struck me most was the purposeful art of his technique: his desire to emulate the American Man in his dances and how he employed sport-movements from baseball, among other sports, to do this. When they say: "They don't make movies like they used too", they really mean it! We would have stayed there for hours talking with her, but the next show was about to start, so we slowly filed out of the room. We pushed the heavy doors open and the pleasant glow of sunlight welcomed us. Yes, the weather did just do that: we went in as it was rainy and stormy and left as the sun started to come out. What a glorious feeling… and I am happy again…