Intramurals
It's almost time. Intramural season is almost upon us. Last year, I was fairly involved in  intramural sports playing Flag Football, Soccer, Basketball and even Beach Volleyball. What is Intramural sports you ask? Well, basically, it's an opportunity for any Vanderbilt student or faculty member to play a sport just for fun. It's one step below club level and it's more of a recreational league for people looking to play some sports during their free time. Intramurals are a lot of fun and easy to get involved in as all you have to do is get a group of friends, sign up as a team and play some kind of sport together.
Already, I have signed up for three sports with my friends. They are: Flag Football, Mixed Doubles Tennis and Waterpolo. I'm actually not good at any of those sports, but, that's the best thing about intramural, everyone is there to have fun and just play. No one really takes it very seriously as it's just a way to get together and blow off some steam. Overall, its a great way to meet new people and make friends.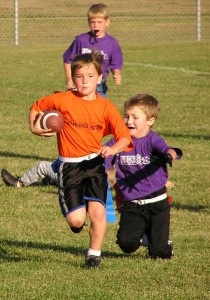 I am hoping that James Franklin walks by the recreation fields while I am playing flag football and sees me and becomes so impressed that he asks me to play football for him. That's the dream.
Anyway, yesterday I went to the coaches meeting for flag football and today I just got my schedule for tennis. Both start next week and I'm really excited to get into the swing of things. I am hoping that I get better by then because I have a cold and I am approaching 10 days of sickness. It is probably about time to go to the student health center, but I'm trying to forgo the visit for as long as possible.
You can look at the list of intramural sports that are offered here.