Food Truck Motorcade
I don't understand how people don't treasure food the way I do.  I am always tempted to include "food" in my list of hobbies, but I'm not sure if that is a sure-fire way to lose friends, just like my mom always told me never to publicly proclaim "I hate country music" in Nashville.  However, today I'm taking a stand and declaring myself a foodie! And on that note, Nashville hosted a wonderful gastronomic event this weekend that I took advantage of: The Nashville Street Food Awards.
Hosted at Centennial Park, this food truck competition brought 23 Nashville food trucks to the Vandy area from 11-6 p.m. on Saturday, September 1st.  I had never seen a collection that size of food-bearing trucks before, hence my calling it a motorcade.  We headed over to Centennial around 2:30, and it was packed, lines snaking far behind each food truck, despite the constant drizzle of rain.  A few Vandy favorites were in attendance, including The Grilled Cheeserie and Hit or Miss, an ice cream food truck that gave out free ice cream cones on campus on Thursday, thanks to CityVU.  There were all types of culinary delights from snow cones and juices to Korean BBQ and homestyle cooking.  I chose to partake in a little bit of Cajun cuisine at Jonbalaya, and it was well worth my $8.00.  Food trucks are pricey, but I also feel more cultured when I eat at them.  Props, food truck marketers.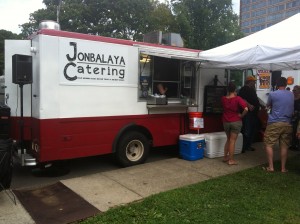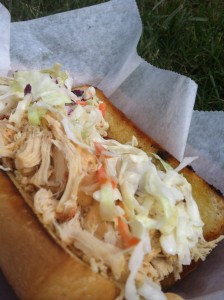 Some proceeds from the event went to the Second Harvest Food Bank,a Nashville non-profit that I support completely, so that was fabulous.  The competition atmosphere added a fun twist to the afternoon, with chefs running entries to the judging table for various food categories every 10ish minutes, when they were not busy filling orders for the plethora of hungry Nashvillians. Here are the results from the day's showdown! Among the taste tasters was the mayor, Karl Dean, and various other random people of whom we were quite jealous.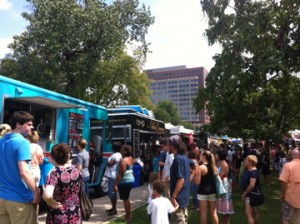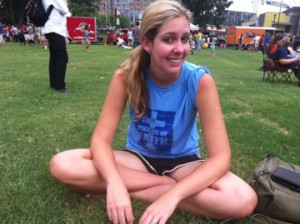 The afternoon provided lots of rewarding people watching, because it felt as if all of Nashville was present.  Dogs, children, and foodies were abounding.  Live music was a nice touch too, as Musician's Corner, a weekly free music event, kicked off its summer program during the food awards. Having days like Saturday is one of the huge reasons I love living at a school smack dab in the middle of Nashville.