Thanksgiving Break So Far…
As Thanksgiving on the west coast comes to a close, I'm in the family room, sitting here by the fire watching Space Chimps with my little cousins and thinking about how much fun today (and break so far) has been!
I got home late Saturday night, and all I did on Sunday was go to church and lay around in bed, watching TV and relaxing in general.  Monday was basically the same…all I did was catch up on Gossip Girl and bake in my pajamas.  (no shame.)  On Tuesday, I went to work with my mom–she teaches advanced math at a K-8 Catholic school nearby–and sat in on her class.  Afterwards, we went shopping and just hung out.  That night, we went to Del Taco (one of my favorite places to eat!) and discovered the beauty that is the Coke Freestyle machine.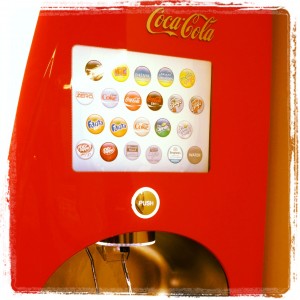 (My personal favorite is Cherry Mello Yello.) (We've also gone back twice since then just for drinks.)  On Wednesday I went Thanksgiving grocery shopping with my brother and then two of my friends came over for an impromptu hang-out (and so that they could meet my family's new guide-dog-in-training puppy, Addie!).
It was awesome to see friends from home, since none of my friends go to school near me, so I don't see them often.  And then came today–Thanksgiving!
Today was filled with family, food, and fun in general!  I love holidays–my mom's entire family comes over to my house and there's always someone to talk to, or a little cousin to entertain!  After stuffing ourselves and then hanging out, it's just my immediate family and my two second cousins left.  We played the Wii, had a photoshoot and I painted my cousin's nails with Hello Kitty's face on them!
It's almost time for me to go pass out in my bed, but I am so thankful for everything and everyone in my life–from my family to my pets to my friends at Vanderbilt. I don't know what I'd do without them–but as much as I love being home with my family, I can't wait to get back to Nashville and see my friends again!