Mayfield Lodges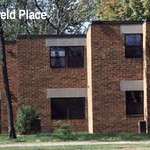 Even though we still have a little over a month left, I'm getting excited for next year! I already met with my advisor about classes and have a pretty good schedule mapped out. What I really can't wait for, though, is living in a Mayfield!
The Mayfield lodges are located in Highland Quad, near Blair School of Music, the Rec Center, and most importantly, Quizno's (I'm a huge sandwich fan). There are 20 Mayfields on campus and each holds 10 students, who share two bathrooms, a mini kitchen, and a common area. Each room is a single though, so that's a nice plus. I'll basically be living in a small house in my own room but near my 9 closest friends!
However, this awesome setup was not just handed to us at random. The Mayfields are part of the Living and Learning program at Vanderbilt. Each house has a project they work on the whole year that involves helping the community in some way and growing individually too. Our theme for next year is holidays! Each month, our lodge will learn about and celebrate a traditional American holiday, and also an international holiday we may not have known about. Some of my hallmates are bringing back the family dinner with their project about "The Lost Art of Conversation," while I know other groups working at animal shelters with dogs or helping literacy rates with a Harry Potter-themed Mayfield. Living in a Mayfield may add a little to the workload, but I definitely think it's worth it, especially with fun projects and people!