My 4 Sides of Greek Life
A few weeks ago Erica and Eileen gave you a good idea of what the decision to go Greek or not is like for a freshman at Vanderbilt. However, as a senior who has literally been on all sides of the system, I thought I would share some my experiences with you also. Read on to learn about my experiences on 4 different sides of the Greek system…
1. Ineligible!
I am not embarrassed to say it… but am also not proud of it: I didn't perform my strongest during my first semester here at Vanderbilt, and definitely messed up. I was too busy making friends on my hall, exploring Nashville, and soaking up the entire college experience to focus on my classes, and boy did that low-GPA-reality hit me like a piano falling from a ten-story building!?! I thought my grades were ok, not great, but good enough to go through recruitment my freshman year and that I would work harder next semester and get my head on straight. I had heard all of the fun stories about going through recruitment in January during my first semester and was possibly one of the most excited freshmen on campus to become a sister in a sorority!
However, on New Years Eve my parents got a letter saying that I had not attained the required GPA needed (2.5) in order to go through recruitment in January with all of my friends. It is the understatement of the century to say that I was devastated! However, after all of the tears and pleads to Greek life to let me go through I was officially denied and had to wait till the next year. Well folks, I survived! I am still here, standing, breathing, and absolutely loving Vanderbilt! All the horrible things that I thought would happen didn't; my friends in sororities still talked to me, I wasn't shunned from fraternities parties, I still found cute new t-shirts to wear around campus, and I even got to go to some of the date parties with my friends when they didn't have dates! I was a little lonely on Monday nights when they were in chapter, but it ended up giving me great time to clean my room or have quiet study space and after a week or two I came to enjoy the quiet time.
2.   The "Sophomore"
When January of my sophomore year rolled around I was extremely excited to finally go through recruitment! I had friends or class acquaintances in almost all of the houses and was super stoked to finally become a sister! I was nervous when I started recruitment because I wasn't sure what the girls in the houses would think about me being a sophomore and if they all knew why I didn't go through the year before, but truthfully I think I had a better and less stressful time than I would have had freshman year. I had spent the last year bringing up my GPA, getting to know girls in all the houses, and getting excited for recruitment!
Well recruitment ended up going fabulously! I had a fun week chatting with my friends in all the houses and ended up in the house I knew I belonged in all along. On Bid Day I became a Delta Delta Delta and I could not have been happier!!! All of the waiting and stressing had finally paid off and probably had turned out better than it would have if I had tried to go through recruitment with bad grades and too many worries. One of the best parts was that I now had my new pledge class, which was mostly a year younger than me to get to know and I also felt a part of the older pledge class who was my year in school. I got to take advantage of the perks of both pledge classes and make a bunch of new friends!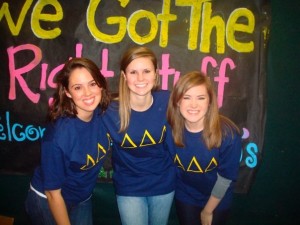 3.  Delta Three, Delta Tri, Delta Delta till we Die
During recruitment my junior year I participated in all the activities going on in the house during recruitment week. During this week I truly began to appreciate being a Tri Delta and saw what sisterhood looked like. We all spent many hours each day for a week straight in our house working on decorating and planning for the rounds and I enjoyed every minute of it. At the end of the week, after countless rounds and hours spent with my sisters I still wasn't sick of them or being in the house. This showed me that I was where I was supposed to be and that all of them would be my sisters for life.
I will never ever forget the moment on the night before Entertainment Round where after we had spent hours transforming the inside of the house into a Wizard of Oz wonderland we got to watch the skit practice for the next day. All of us were sitting on the floor in front of the stage watching our amazingly talented sisters perform the skit and the last song was "For Good" from Wicked but some of the lyrics were changed to talk about sisterhood and our love for Tri Delt. Towards the end of the song I looked over at one of my sisters and she was starting to cry, well she wasn't the only one for long. In the next 20 seconds the response spread and we were all crying happy tears about the love we have for our sisters and how even though we were tired and stressed we were all so glad to be spending so much time together and to be sisters for life. That moment will always stick with me and remind me that my house is always there for me and that we all have the same strong bond to all of our sisters at Vanderbilt and across the country!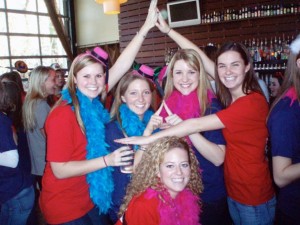 4.  An Unbiased Source of Information
This past year I served in the role of Greek Ambassador. This means that I had a group of 21 freshman that I guided through the whole recruitment process and instead of being inside the Tri Delta house during recruitment week, I was stationed outside a variety of houses and had the job of ensuring that every round ran on schedule and that all the prospective new members were lined up correctly and present for their rounds. Also, in order to be a fair and unbiased source of information about the recruitment process for my girls to talk to I had to give up wearing my letters or letting them know what sorority I was in. This was hard to do at first, but I was proud to be a Greek woman who was able to represent every house equally and promote the whole Greek organization, not just my house.
I enjoyed this experience a lot! It was really fun getting to know my group of freshman girls and being able to answer their questions and calm their fears as they were approaching the process. I did have to have some hard conversations with girls who weren't asked back to their first choice house or decided to drop out of the process, but in the end the majority of my girls were happy in their houses and I was so happy to see them end up where they were supposed to be! This experience helped to reassure me that there really is a house for everyone and that if you trust the process things will usually end up how they are supposed to.
The Greek system is a great way to get involved at Vanderbilt and a great way to get to know a variety of people with a million different interests and talents! I still believe there truly is a house for everyone and that it will be a great resource and group of sisters to have for life!