Vanderbilt Naval ROTC (Freshman Perspective)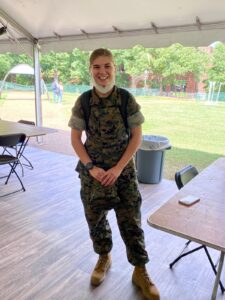 Since NROTC was one of the biggest factors in my decision to attend Vanderbilt, I wanted to write a little bit about my experience with the program thus far. I am a Midshipman Fourth Class (MIDN 4/C), which is what all the first-year midshipmen are ranked. As one moves up in class, it goes from 4/C to 3/C, then 2/C, and seniors, who are 1/C.
At VUNROTC (Vanderbilt University Naval Reserve Officers Training Corps), we are held to a higher standard. We are expected to earn good grades, maintain excellent physical fitness, conduct ourselves professionally, and represent the United States Navy and Marine Corps in all that we do. We wear uniforms twice a week, regularly have physical training, and attend a leadership lab once a week. Covid has definitely affected what we can and can't do as a battalion, but we have been able to fare pretty well with what we have been allowed.
In Naval ROTC, all midshipmen are required to take naval science classes. MIDN 4/C have to take Intro to Naval Science and Sea Power in History. These courses are both introductions to the Navy and Marine Corps customs, courtesies, history, and general information that we will need to know as we go throughout NROTC and eventually commission into the fleet.
Since the Marine Corps is underneath the Department of the Navy, we have both Navy and Marine options in our battalion. I am a Marine option, which means that I will go to Officer Candidate School in the summer before my senior year. Until then, I will be preparing for OCS in NROTC. Marine options have weekly meetings called Bulldog where we prepare for OCS. Sometimes we are in the unit classroom learning about five paragraph orders or land navigation. Other times we are on Magnolia lawn practicing fireteam maneuvers or doing prac app (practical application of what we've learned). Other times, we do workouts, but we assemble into fireteams and appoint fireteam leaders so that each midshipman gets the opportunity to practice leading in different situations.
Leadership, professionalism, and communication are key skills that all midshipmen learn. The mission of NROTC is to develop midshipmen mentally, physically, and morally, and to imbue them with the highest values of honor, courage, and commitment. This applies both on campus, outside of Vandy, and at the unit. After all, the Navy is paying for our schooling. The Naval ROTC scholarship covers all tuition, fees, and textbooks, and all midshipmen get a monthly stipend for their own use. So basically, NROTC is our job. That is why we are held to a higher standard. And what better place to get our education and train to become the best officers we can be than at Vanderbilt University? VUNROTC has been one of my favorite parts about college so far. I encourage you to look into it!