Summer 2020 Preview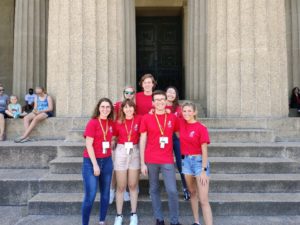 If you've been following this blog for a while, you'll know that I post updates each year on how I'm planning to spend my summer break. As this will be my final summer before medical school, I'm definitely trying to make the most of it and relax as much as possible before my next academic chapter.
For the month of May, I will be graduating (!!!) as well as hopefully going on a few small trips with friends. Though I haven't nailed down the logistics for these yet, they should be a lot of fun and this should be a relaxing, restorative time for me as a newly graduated Vanderbilt alum.
In June, I will be returning to the job I had this past summer. I worked at the National Student Leadership Conference site at Vanderbilt, where I was able to mentor high school students in neuroscience and psychology through the lens of leadership. This year I will be the neuroscience program director which will allow me to create a curriculum and sessions that the students will hopefully find engaging and that will empower TAs to share their love of the brain.
I am not sure exactly when I will be headed to medical school, but it will likely be between mid-July and early August, so once my job wraps up in early July, I will be preparing to take off for school once more. This will hopefully involve spending plenty of time with friends at home, getting organized for the new school year, and practicing self-care before school starts back up.
Feel free to read my previous posts to get a sense of what I did over the summers after my first, second, and third years at Vanderbilt as a pre-med student (they were definitely a lot more jam-packed). Thanks for reading, and if you have any questions regarding summer jobs or life at Vanderbilt, feel free to contact me at alex.rains@vanderbilt.edu.