"They Answer I Present": Why Vanderbilt (Part 2)
I have pondered the question "Why Vanderbilt" on various occasions. When I was an applicant, I read the information on Vanderbilt's website to formulate my answer. After I received the acceptance letter, I reviewed my answer and added new elements to it. Right before coming to Nashville, I talked with a family friend who graduated from Vanderbilt several years ago and went over this question again. My response to the question has been dynamic partly because I have listened to others' ideas. I hope the following answers from peers around me are insightful to Vanderbilt applicants.
I. The Response from a Current Student Who Will Graduate in 2022
Major: English (on the pre-med track)
"I chose Vanderbilt for several reasons:
1) The competence and impressiveness of the professors. They are all leading researchers in their fields.
2) The beautiful campus in the center of a big city.
3) The dedication to having a diverse study and faculty body.
4) The level of student involvement in clubs and organizations."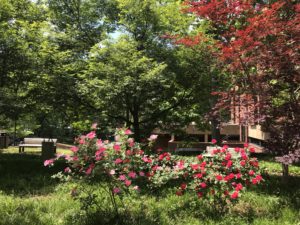 II. A Sophomore's Answer
Major: Mathematics

Hometown: Toronto, Canada

Intended Career: Something that makes me happy
"I picked Vandy because there is a community here for everyone. There is an organization here for whatever you are passionate about. If there isn't, you can easily make your own. You will be able to find people like you and people unlike you, both of whom you will be able to learn from."
III. The Answer of Another Sophomore
Major: History

Minor: Japanese

Hometown: Marlborough, MA
"Before applying, I had a few criteria for the college I wanted to go to, and Vanderbilt met all of them: the academic rigor and extracurricular activities, a beautiful campus in a city, the ability to do research, and a community where I could grow as a person.
I wasn't sure what I wanted to study, but I knew I wanted to learn Japanese. So, after doing some research, the innumerable opportunities at Vanderbilt to explore my interest in Japanese stood out to me, and, after arriving on campus, I became involved right away!
Now, as a sophomore, I am living in the Japanese Hall of McTyeire International House, Vanderbilt's immersive foreign language Living Learning Community (LLC), regularly attending monthly Japanese cultural events and weekly language meetups organized by the Asian Studies department, serving as Vice President of the Japanese Cultural Foundation, and conducting an independent research project on Japanese history with one of my professors.
Needless to say, Vanderbilt has provided me with the resources I have needed to fully explore my passion to the fullest extent, and, for that, I will be eternally thankful!"
I hope to be unobtrusive when presenting my peers' answers, so I choose to not specifically comment on their responses. Meanwhile, I appreciate that each peer frankly offers a unique view of Vanderbilt after contemplation. Exchanging ideas about "Why Vanderbilt" is fruitful to me and hopefully to prospective students.