"They Answer I Present": Why Vanderbilt (Part 1)
Happy October! Since it is the college application season now, many applicants may ponder the question "Why Vanderbilt." Some applicants may be interested in current Vanderbilt students' answers to this important question, so I want to start a series of posts focusing on "Why Vanderbilt."As I promised to bring others in my blog, I interviewed peers around me and therefore named this series "They Answer I Present," in which I hope to serve as a bridge between current Vanderbilt students and Vanderbilt applicants. Each time, I will present three peers' answers and their information which they have allowed me to post. Names have been omitted for privacy.
I. A Junior's Answer
Majors: Political Science and Spanish

Minor: Japanese Language and Culture

Hometown: Oro Valley, Arizona.
"I chose Vanderbilt for a few reasons, but the one that was most decisive was financial aid. Other schools I got into of similar caliber simply could not compete with Vanderbilt's financial aid package, which will allow me to graduate debt-free.
In addition, the university has a great mixture of old-school charms with modern amenities, a balance that is sometimes missing in other universities. The depth of Vanderbilt's international programs was a big reason as well, with the Global Education Office, McTyeire International House, and the various language programs I'm involved in all serving to deepen my experience."
II. Another Junior's Response
Majors: Computer Science and Mathematics

Hometown: Shenzhen, China

Intended Career: software engineer
"I never thought that I would go to Vanderbilt before I saw the "Congratulations" on the webpage. I was surprised, unprepared, yet super excited.
'It's Vanderbilt, you know.' Living in this amazing campus for over two years, I cannot express how grateful I am. I am not only impressed by the inclusive culture and at Vandy but also academically empowered by the plentiful research opportunities and benefited from being in such a prestigious university to plan my career path.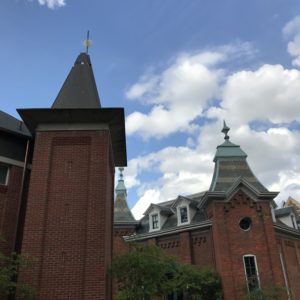 Moreover, Nashville is awesome! I can immerse myself in the guitar show of one of my favorite bands on weekends in a tiny bar nearby, or enjoy a cheerful musical journey from my classmates. Every day when I glare at the ebb and flow of the glowing red of sunset, I feel blessed. Vanderbilt brings out the best of me, preparing me for future challenges after graduation."
III. The Answer of a Senior
Majors: Economics and Russian

Hometown: South Korea

Intended Career: Consulting
"One of the reasons I like Vanderbilt is that there is not a sense of cut-throat competition. Not that we don't work hard, we do, but we see our classmates as our peers, not our competitors."
Every Vanderbilt student may have a unique answer to "Why Vanderbilt." As time passes, the responses may evolve. I gained insights from peers, and I hope applicants also benefit from knowing my peers' perspectives. I wish you the best of luck with your college applications!