Nashville in the Summer
Happy August!
Sadly, school is about to start again for me and many of you guys, too! However, I'm excited to be returning to Vanderbilt for my fourth, and final, year. I currently have a lot of mixed feelings about my senior year, which I will try to formulate into a blog post later. On the other hand, I spent this past summer in Nashville on campus, so this post will hopefully answer many of your questions regarding Vanderbilt in the summer!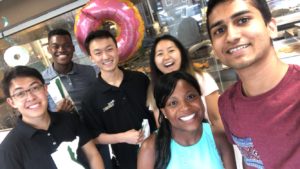 Is campus busy during the summer?
Yes and no. Vanderbilt during the summer has many busy periods but also many slow periods. There are countless camps and conferences that visit campus anywhere between days and months. Some students are also on campus taking summer courses as well as a few sports teams. Also, Vanderbilt does a lot of campus maintenance during the summer when many of the students are not there in order to not inconvenience us, which is pretty nice. However, campus definitely feels more empty during the summer without students constantly walking around and randomly bumping into your friends.
What is the weather like in the summer?
Nashville is pretty hot and humid during the summer! Many days, the high is in the low- to mid-90s, which makes pool days much needed! The days are pretty long too, so you have plenty of time to hang out with your friends or take a walk before it gets too dark. Also, when it rains, it pours, but it never lasts too long.
Why would you spend your summer on campus?
There are countless opportunities both on- and off-campus during the summer months in Nashville. Many students complete research during the summer with various departments on campus, and some of these opportunities are even paid! In addition, Nashville is a busy, growing city, so some students have internships with local companies in the city. Also, the Nashville food scene is incredible! The summer is the perfect time to enjoy various restaurants with friends and co-workers, and there are often free events and festivals at Centennial Park, which is not too far from campus.
What was your favorite summer Nashville memory?
It's so hard to pick just one. One of my favorite summer memories is when Vanderbilt's baseball team won the College World Series in June! It was really exciting, and Vandy hosted a free watch party at Hawkins Field with free t-shirts, free barbecue, games, and raffles. We all sat on the field and watched the game with Vandy students, alumni, and fans of the team. The energy in the stadium was incredible, and it was definitely more fun than watching it on my laptop!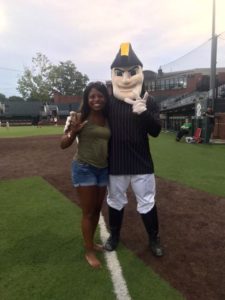 Another favorite memory is definitely seeing one of my friends play the leading role of Jack Kelly in Newsies! A bunch of summer student admissions assistants, admissions counselors, and I traveled to Lebanon, TN to see Nick perform, and the show was fantastic! It was great being able to support him during his big debut.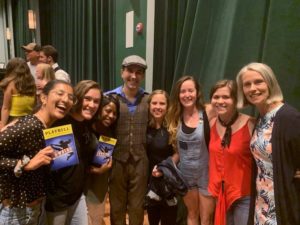 If you have any questions about spending a summer in Nashville, feel free to email me at ashli.alexander@vanderbilt.edu! Enjoy your last few weeks of summer, and I hope to see you on campus soon!