The End of Freshman Year: Finals, NFL Draft, and Fun
Happy May! I know that today is college decision day so congratulations to everyone who will be attending college this fall, and welcome to all of the Vanderbilt Class of '23 freshmen!
I am currently writing from home because freshman year is over for me! I got lucky with my finals schedule and only had two exams – Neuroscience was last Wednesday and Chemistry was Thursday. The other classes either had a last non-cumulative exam (although neuro was also non-cumulative; it just happened in the final exam period), a project, or a paper. Exams went well, and this past weekend I did some packing, hung out with my friends for the last time, and just relaxed before leaving last night.
I also went to the NFL draft on Friday night which was absolutely wild. The crowd was so packed and we were there for so long that my feet were aching at the end of the night. For the first few hours, we just listened to the picks being called and the excitement between team rivalries (by the way, I'm a total Eagles fan so go birds). Then, we crossed the pedestrian bridge and saw some of the stations they had set up including a 40-yard dash, sample lockers and fancy glitter helmets, and even the original Vince Lombardi Trophy! After walking back to the crowd, Tim McGraw finally performed and we stayed for a few songs. I'm not a huge fan of country music but there's something special about live music where the sounds just fill the air and everything feels fuller.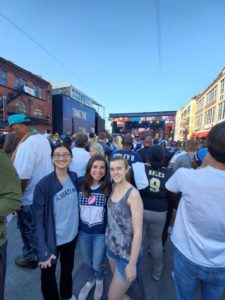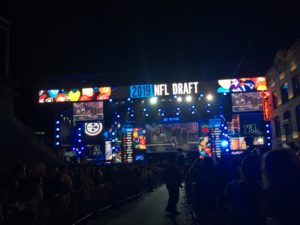 Leaving yesterday and packing up was bittersweet. On one hand, it was difficult saying goodbye to all of the new friends I made and leaving a place that had become my home. On the other hand, it is really nice to have a break for a while and rest before the next semester. That being said, I will still be working hard this summer because I'm taking Organic Chemistry (both semesters and the labs) at home, which starts later this month. The long hours of studying will be worth it in the end, because this means that in the fall I'll be able to focus my energy on biology, which is another difficult intro class.
Next semester, I'll also be working in a biology lab for credit as a research assistant. I'll be working with a a graduate student in Dr. Johnson's lab, which studies biological clocks and circadian rhythms. For neuroscience, we need at least two semesters of research, so this will also count towards my degree. I'm really excited to work in the lab; we'll be looking at photoperiodism in cyanobacteria.
In terms of the rest of my schedule, I'm not exactly sure yet what the final one will look like because I'm still on the waitlist for a few classes. I'll be taking 12 credits in total – biology/lab (3/1 credits), research (2 credits), and two other AXLE (general education requirement) classes (3 credits each).
Until then, I'll be spending time with family and relaxing at home before Orgo starts. I'm also going to the beach for a few days and visiting my sister in North Carolina for a week.
I'll still be blogging next semester, and as always, feel free to reach out if you have any questions about college life, moving in, etc.
Have a Good Summer!!!
😊😊😊