Course Highlight: Beginning Nonfiction Workshop
It does not matter where you are from or what you have experienced, you have stories that are worth sharing. Even when you feel like the person next to you is entirely different from you, you can still feel something they have. I learned these two things in ENGL 1240 with Professor Piyali Bhattacharya. The course took place on Tuesdays and Thursdays. Each Tuesday we would discuss a piece of nonfiction writing that Professor Bhattacharya selected and on Thursdays, we would workshop one of our peers' writing. The pieces would consist of some type of personal life story or experience. A particular topic, such as growing up as a minority in a small town in Oklahoma, or a particular event, such as a night spent walking around your city the night before leaving for college, were highlighted with complete creative freedom on how to tell the story, how to format the story, and how the words look on the page.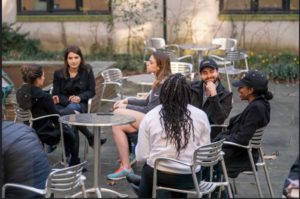 The class was the most diverse mix of students I have ever seen, yet we were able to discuss personal topics that brought us all together and fostered an understanding environment. Throughout the semester, I was able to understand others experiences surrounding different races, nationalities, body types, cultures, interests, lifestyles, happiness, and pain. No matter how foreign the topic seemed, there was always room to connect to the writer.
Even if you do not consider yourself a writer or if you struggle to write about yourself, you should still seek to take this course. It may seem difficult at times to get the feelings onto paper, but it is possible. You will learn more about yourself and those around you.