Spring is here… for a few days
The end of the year brings a tidal wave of quizzes, exams, and events, especially in the Spring semester. Many students organizations are rushing to host their big events for the year. Many students are searching for summer internships or jobs as the school year closes. It can feel like there is not a moment to rest at this time of year. Personally, I am currently a part of an organization and planning our largest event of the year while trying to balance and work around everyone's schedules is tiring. I haven't found an internship yet, nor have I completed the posters for advertising my organization's event. I haven't gotten around to writing my paper for sociology, studying for my exam next week, nor have I had time to call my family in weeks.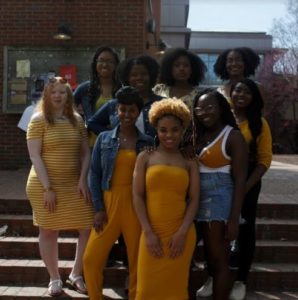 But last weekend, the weather felt like Spring and I cannot resist Spring. Instead of staying inside for another weekend in a row, I decided to organize a small "get-together" with some friends and peers. We met outside Rand by the yellow flowers Saturday afternoon and took photos of one another. We all wore yellow and took a moment to just be free of school work or social pressure. While college can be stressful at times, it is important to take an actual break. Whether it's working out, going out to eat, laying out on the lawn, or dressing up and taking photos, plan to do something that takes your mind completely off of the pressure on you. Focus on the most important thing- you.