My Summer Plans
Since April has finally begun, a Vandy student can't help but think about how quickly summer break is approaching (along with finals)! Luckily, I have already secured my summer plans. Here is what I am planning to do for the summer: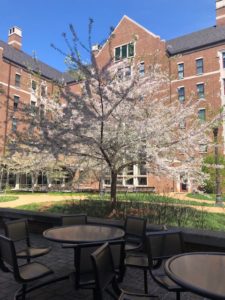 Thanks to Hire a Dore, I found a summer internship. I will be working with iScribeHealth's Healthcare Immersion Program for this upcoming summer. Through this program, I will be working with physicians by creating Electronic Health Records (EHR) in order to allow physicians to spend more time directly communicating with patients. I am very excited for this opportunity!
In addition, since I will be in Nashville this summer, I will be continuing my job at Vanderbilt's Office of Undergraduate Admissions (OUA) as a Student Admissions Assistant! I love working at OUA and meeting prospective students everyday, so I can't wait to spend more time there over the summer. If you visit Vanderbilt over the summer, there's a very good chance that you'll see me!
If you have any questions about how I found my summer jobs or what Nashville is like during the summer, feel free to contact me at ashli.alexander@vanderbilt.edu. Also, congratulations to the newest members of the Class of 2023! Anchor Down!