Free Food & Finals
With all of the stress of finals approaching, it is easy to get overwhelmed with everything happening. However, Vanderbilt does a great job of keeping students encouraged and motivated during this time of year! Here are a couple of the destress events that Vanderbilt is offering during this finals season!

Stress Less Spring Fest
This event hosted by the Rec Center on campus has free food, bowling, hammocks, and even rock climbing! I am definitely looking forward to this event. I went last year, and it was very fun and a nice break from my essays.
Free Snow Cones
Yesterday, there was a snow cone food truck on Alumni Lawn giving out free snow cones to students and staff members! My favorite flavor from Retro Sno is strawberry lemonade. This truck visits campus frequently for Rites of Spring and Spring Destress Events. Definitely try their snow cones if you have the chance!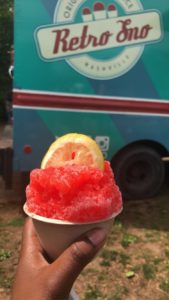 Puppy Party
Later this week, Kissam is having a puppy party with free food and therapy dogs for students to pet! Kissam definitely treats its residents like family, and it will be great to be able to take a study break with some of my hallmates.
Commodore Coffee Break
To celebrate the last day of classes, campus will be having a huge event next week with free food, a coffee bar, massages, and facials! Also, did I mention the giveaways? Two years ago, my friend won a FitBit! This event is a lot of fun and helps you to forget about your approaching finals for a few hours while listening to great music.
Even though finals can feel like the end of the world, Vanderbilt tries to provide students with many opportunities to eat good food and relieve some stress during this time. Of course, your grades are important, but at the same time, breaks are essential for success! If you have any questions about Vanderbilt's finals or how I manage my finals, feel free to email me at ashli.alexander@vanderbilt.edu!