An Authentically Nashville Experience
Living at Vanderbilt, it's easy to forget that there's a whole city beyond campus. But I think that one of the best things about going to Vanderbilt is the experience of living in a major city. More specifically, Music City. Nashville is a hub for music of all kinds, and it's easy to get a taste of Nashville's music culture even when you're just going about your daily life.
The first time it really struck me that I live in a music capital was on a random Monday night during first semester. Earlier that day, I had been scrolling through Facebook, when something caught my eye. It was a post from a local Nashville page saying that Luke Bryan was giving a free concert on Broadway that night. I thought,
'That can't be true, can it? A free concert from a country superstar in the middle of the street on a Monday night?'
But my interest was piqued, so that night I dragged a few friends out to dinner with me, and then told them we had to go to Broadway to check it out. To our amazement, when we arrived on Broadway there was a massive stage set up. A few minutes later, Luke Bryan came out and played an entire set! That night is one of the best memories that I have from first semester, and was the first time I really understood what it meant to live in Nashville.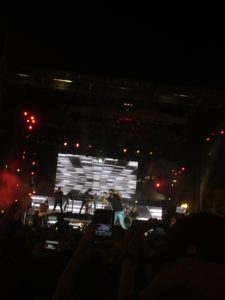 Musicians are everywhere in Nashville, so meeting them has become a common experience too. But so far, the coolest musician I've met was my uber driver on the way to the airport one day. We started having a casual conversation, and he mentioned that he was a singer/songwriter here in Nashville. When I asked him if he played with anybody famous, he told me that he writes songs with Garth Brooks' daughter. He then went on to explain what songwriting with her was like, and even showed me the music video for the song that they had most recently written together. Now, I've met plenty of uber drivers who have been aspiring musicians, but this encounter stood out to me because it really felt like I had met someone who I might hear on the radio one day.
If you venture off campus often enough, you're bound to eventually have a run in with one of Nashville's many famous residents. A few months ago, one of my friends even attended the same church as Thomas Rhett, completely on accident! She didn't want to disturb him and his family, but she did get to see him in church.
Even if you're not meeting anybody famous or attending a concert, Nashville has so much to offer music-wise that there is always something to do. Whether it's checking out local music hubs such as the honky-tonks on Broadway, the Exit-Inn, or the Bluebird Café, or spending a whole day getting lost in the Country Music Hall of Fame, you'll never run out of ways to explore music in Nashville.