My Favorite Meal for Dinner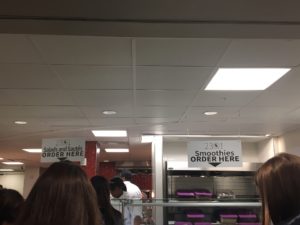 One of my favorite places to get dinner on campus is at 2301. 2301 is an allergen friendly dining option located in Rand. It has ingredients free from the top eight allergens. They offer smoothies, salads, sautés, and sides. When first come up to 2301, you will choose whether to go into the smoothie line or the salads and sautés line. I always choose salads and sautés.   Although I have never tried a smoothie from 2301, I know that they are made to order and have a variety of fruits and vegetables that can be incorporated in them.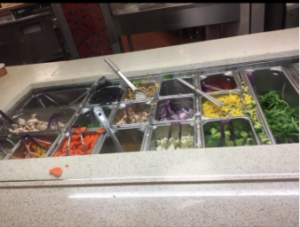 When it is time to choose your ingredients for your bowl, you are met with a variety of options. You can add as many vegetable choices as you like with a choice of one meat. The vegetables include broccoli, cauliflower, peppers, red onions, cherry tomatoes, cucumber, corn, carrots, garbanzo beans, black beans, snow pears, olives, and mushrooms. Mandarin oranges are also available and you can choose between chicken and beef as a protein. As a base of the bowl, rice, kale, spring mix, spinach, and romaine are available.  Personally, I always get a sauté bowl with rice, broccoli, cauliflower, carrots, and chicken. With sautés and salads, you can choose a dressing- chimichurri, orange ginger, basil oil, or Italian- to go on top or for the ingredients to be cooked with. After you receive your bowl back, you can choose from sides of fruit, sautéed vegetables, potato salad, or chips.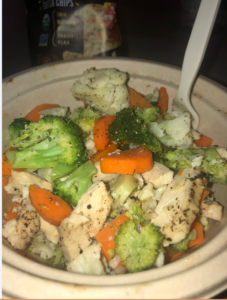 2301 is one of my favorite places to eat because it offers a great source of nutrition, fast service, and overall the portions are fulfilling.