LNYF 2019: Happily Ever After
Over 300 students from various backgrounds prepared for this showcase since the end of the fall semester. Even the rainstorm last night did not prevent more than a thousand people from attending. Cheers resonated for three hours in Langford Auditorium. Quelle est cette fête culturelle? ("What is this cultural celebration?" in French) LNYFです。("It is Lunar New Year Festival." in Japanese) The showcase, which commemorates the traditional holiday celebrated by many Asian cultures, included nineteen acts, interwoven with a skit of multiple Asian tales.
The Skit
Titled "Happily Ever After," the skit featured an Asian American first-year student and a fairy. At the beginning, the freshman was unhappy with her college life and annoyed by her father's caring calls. The fairy then took the girl on a journey to various countries while telling local stories. The tales not only provided transitions between the acts, but also delivered messages about identity, determination, kindheartedness, and composure.
Music
In the opening act, a group of student musicians played the erhu, the guzheng, and the pipa—traditional Asian instruments—along with the violin, the viola, and the cello. The innovative combination presented elegant melodies rich in emotions.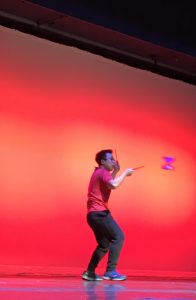 Performances
Three types of martial arts were performed. The magnificent moves showed that individuals interacted with the surroundings and themselves through these traditions of physical and spiritual enhancements. As the students broke wooden boards, the audience went wild.
A Chinese yo-yo act also engaged the audience. The performer's body was in constant motion while balancing the sticks, string, and the diabolo. The audience cheered for the cool stunts.
Dances
In Watersleeves, dancers with flowy sleeves portrayed romantic tragedies repeating in various Chinese dynasties. Another group of artists danced with long silky ribbons and veiled fans to demonstrate grace and uniformity of two traditional Chinese dances.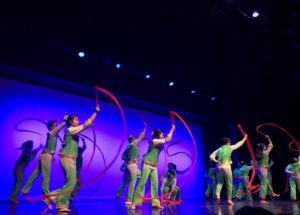 Performers of Tinikling, which originated from the Philippines, had skillful steps over and in between colliding bamboo poles.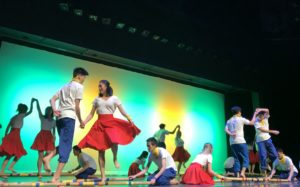 Another traditional Filipino dance, which featured pairs dancing upon narrow benches gradually stacked higher and higher, underscored trust between teammates.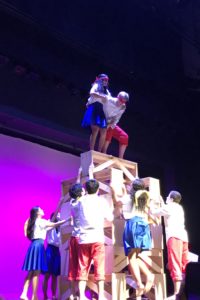 Hip-hop and KPOP spotlighted the modern Asian and Asian American culture. The Hula dance reflected the dynamic Polynesian culture.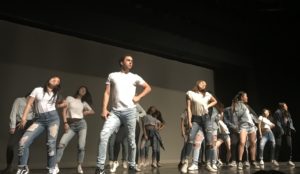 During the 3-hour showcase, I cheered and gained insights complementary to knowledge from classrooms. The LNYF gala celebrated not only Asian, Asian-American, and Pacific Islander cultures, but also the multicultural diversity of Vanderbilt. I hope to give a shout-out to the performers, the organizers, and the audience who have fostered the diversity of our communities. After the gala ended, a friend asked me, "这个活动里,你喜欢哪一部分?"("In this event, which part do you like?" in Chinese) Another friend and I answered excitedly, "都喜欢!" ("All of it!" in Chinese)