Dance!
Before coming to Vanderbilt. I wasn't much of a dancer but upon arriving to campus I tasked myself to step out of my comfort zone by joining Nilaja Amari, Vanderbilt's African dance troupe. Nilaja is a very welcoming space and I've had lots of fun dancing with all its incredible members. We dance mostly to different genres of African music and sometimes Caribbean music or Hip Hop. Because joining was such a success, I decided to dabble in other forms of dance on campus. This semester I'll be doing the following dances:
An Ethiopian Dance for Harambee
Harambee is the annual African cultural showcase held at Langford Auditorium. It's organized by the African Student Union and is a great time to see more of African culture on campus. The best part is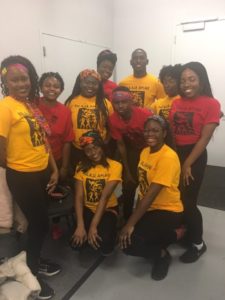 anyone can participate in Harambee. For Harambee this year, I'll be doing an East African dance comprising of traditional Ethiopian songs. Since I've only done mainly West African dance, this is a new experience for me.
2. Zouk for Café Con Leche
Café Con Leche is a cultural showcase organized by the Association of Latin American Students.  It showcases types of the Latin culture through performances, music and dance. Anyone can participate in this showcase as well. This year, I'll be doing Zouk. It's different from what I'm used to but with help from the amazing instructors, it's gone semi-smoothly so far.
3. Honorary mention: Zumba
This isn't performing arts but it's a good time.Vanderbilt offers group fitness classes at the Recreation and Wellness Center and I've taken full advantage of this. I try to go regularly but cannot make it sometimes because of my schedule. If you're looking for a fun way to stay fit, Zumba is a solid option.
There are several ways to participate in dance on campus. This link has a pretty good description of all the dance groups on campus .Dancing is a way for me to destress and I encourage you to do some form of dance even if you feel you have little experience. If you have any questions about any of the cultural showcases or dance on campus, email me at Chidiogo.c.nwakoby@vanderbilt.edu.