Vanderbilt's Professional Business Fraternities
Vanderbilt is home to many dedicated students with an interest in business but we do not have a business school. I am interested in pursuing a career in the health business industry but I have found that not having a business school is actually an advantage because it has given me the opportunity to explore my interests without being constricted by business school requirements.
I am double majoring in medicine, health, and society and economics, and both of these majors have allowed me to take super interesting classes without focusing entirely on one area of study. Nevertheless, it is important to learn professional skills because no one is born knowing how to write the perfect resume or how to answer difficult interview questions.
On campus, there are two professional business fraternities, Delta Sigma Pi (DSP) and Alpha Kappa Psi (AKPsi), which serve to provide a community for students with an interest in business despite our lack of business school. Through Delta Sigma Pi, I have learned the professional skills that sitting in a classroom could never teach me. DSP is very new, and I am fortunate to be a member of the founding pledge class and the 2018-2019 Recruitment Chair.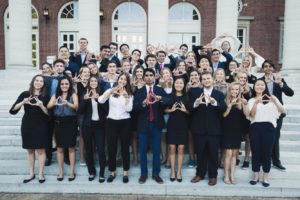 It has been amazing to watch this organization rise from the ground up. Last semester, we were officially initiated and reinstalled as the Delta Sigma Pi Omicron Chapter at Vanderbilt University. This was very exciting because we worked diligently as a colony to become an official chapter.
Being a part of a business fraternity is a great way to get involved in the business world, learn how to network, prepare for interviews, craft the perfect resume, and meet new friends. As a chapter, we also participate in service events with the Ronald McDonald House, our official philanthropy partner.
Each week, we have a chapter meeting, and we often have the opportunity to hear from business professionals. We have had coffee chats with Deloitte, visits from the Owen School of Management, and many other professional development events and speakers.
DSP has provided me with so many amazing opportunities and exposed me to many different people that I never would have met otherwise. We also have social events each semester, such as a honky-tonk bus through the streets of Broadway and pledge class dinners.
If you are interested in business, do not let Vanderbilt's lack of business school be a dealbreaker. DSP and AKPsi both provide students with incredible business foundations and allow students to focus their studies on their interests outside of business, and there are many other business organizations on campus, as well. Professional business fraternities are also a great way to get involved and find your place on campus. You can't go wrong with DSP or AKPsi!