Is Vanderbilt the Right Fit?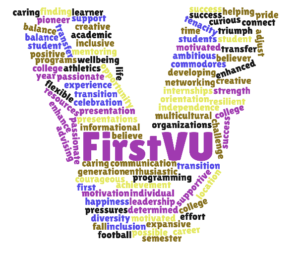 I applied to Vanderbilt as a transfer student because "Why not?", in addition to seven other universities that had similar characteristics. To be completely honest, it was not somewhere I could see myself attending because it was so far away from home. However, committing to Vanderbilt turned out to be one of the best decisions of my life.
I visited over Mother's Day with my mom. After walking in full of doubt and anxiety, I walked out the most relaxed and excited I had been in months. In the car, on the way home, I called all of the other schools I had been accepted to and told them I would instead be attending Vandy; I belonged there.
Some of you might be making your decisions of where to apply or even where to commit to attending. You are wondering, "What makes Vandy so special?" "Will I be happy here?" "Is it too far from home?" Those were a few of the numerous questions I had walking into my visit.
Vanderbilt has excellent academics, undergraduate research opportunities, hands-on learning techniques, amazing study abroad experiences, and great internship connections, but it also is an amazing community full of people who genuinely care about your wellbeing. I love how it is a collaborative instead of cutthroat competitive environment. That was a defining factor in my decision because I wanted to be somewhere I could have rigorous academics without the extra drama (we make up for it by being extra in other ways like having frequent events). Everyone always seems to be happy and having a good time, and this is fairly impressive seeing as everyone either just had their midterms or are studying for them. There are amazing clubs for everyone (I just transferred here this semester and I met them all within the first two weeks). I joined Ballroom and Latin Dancing, the Alternative Spring Break Trip, and have even gotten a job in the Immersion Resources Office. I am also planning on Studying Abroad over the summer. Another important aspect of campus is the food; honestly, it's amazing with a great variety on campus and you can walk to or have delivered anything else you want.
While I do miss my family (we just talk on the phone a lot), coming to Vandy was the right decision for me. Since I am a transfer student I fully understand all the ups and downs of the application process having completed it twice. This gave me a deeper understanding of what I needed in a school and I realized Vanderbilt was my "right fit". 
Good luck and let me know if you have any questions about Vandy being the right place for you.