Free Time (& Loneliness) in College
Surprisingly, one of the hardest adjustments for me when I came to Vanderbilt was the large amount of free time you have in college. Of course, Vanderbilt is a tough school but that does not mean that I do work all day every day.
Especially freshman year, many of my friends and I had tough schedules but often ended class early in the day and found ourselves with hours of free time when we were done with studying or when we were just simply burnt out and in need of a break.
Sometimes, college can be very lonely when your free time does not line up with your friends' or roommates' free time. Especially for motivated Vanderbilt students, it is difficult to transition from going to high school all day and having many after-school commitments to having class for 2-3 hours a day and maybe a club or two.
Personally, I was used to playing tennis every day after school and not getting home until 6:00 or 7:00 when I ate dinner, did homework, and went to bed. To conquer this common college loneliness during excess free time, I did what any sane person would do; I ran a half marathon.
I am not a runner nor have I ever been a runner but one of my friends, Sarah, told me she wanted to challenge herself and run the Rock 'N' Roll Half Marathon in Nashville. I agreed to run it with her, and this was the perfect way to reduce stress and feel productive during my free time after or between class.
In high school, we become accustomed to having set schedules and goals so training for this half marathon was a great way for me to get back into the routine I was used to from the past. I set specific times that I dedicated to training for the half marathon, and it was an awesome way to get closer with my friend and to explore the city. I ran everywhere around campus and enjoyed utilizing Centennial Park, which has a beautiful one-mile loop and is right across from Vanderbilt's campus.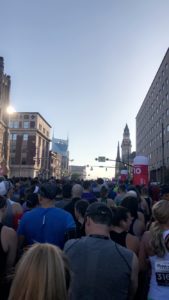 Of course, you do not have to run a half marathon like me if you find yourself with too much free time in college. However, many Vandy students are used to their days being packed, and it can be difficult to transition to a college schedule.
Luckily, you're not alone if you feel this way, and Vanderbilt and Nashville have tons to do if you need to kill a little time or find a hobby. Don't be afraid to look for new opportunities and remember that everyone needs a break from studying sometimes.