A day in the life of Vandy WR Cam Johnson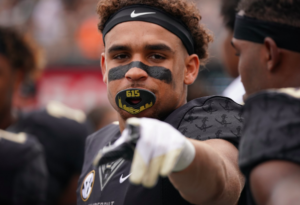 Year:
Freshman (Class of 2022)
Hometown:
Brentwood, TN
After meeting you in Econ class at the beginning of the semester I realized you were one of the star recruits this year. What was that process like? How did you end up choosing Vandy?
"It was long but definitely a fun process, its neat to be able to see so many different colleges and make relationships with new coaches, and see who is genuine and who's not. I chose Vandy because it's in my hometown and also it has great academic, plus the coaching staff i really believe in. Our recruiting class as a whole was really good last year as well."
How long have you played football? What's your favorite thing about it?
"Since I was 5 and just the competition aspect of it, and the grind of it. I enjoy working out and getting better. The best part would have to be the rush you get when you come out of the tunnel in a packed game."
What has been the best part of your experience here so far as a student-athlete? The worst?
"Getting to experience my first four games was awesome, plus I have some good friends here. The worst would probably be my injury. Or sometimes that I feel like we don't have full support. Whether that be from admin or even down to students coming to games."
Unfortunately, you were injured earlier in the season. How did the team and university support you through that time of recovery? What were some of your personal methods of overcoming this obstacle?
"Teachers were very understanding and accommodating, they got me the notes and let me do my makeup work efficiently. The team and coaches were super supportive and always made sure I wasn't down in spirits. I would say just seeing my guys go out there and compete, although it was super hard, as well as just going day by day knowing I was getting stronger and would be back sooner than it felt."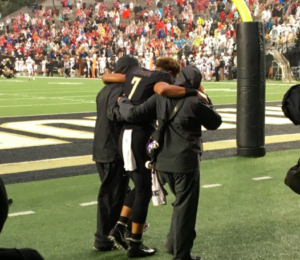 What are some of your goals for the upcoming semester? The next year?
"I want to keep my 3.0 GPA throughout every year to be All-SEC Honor Roll, as well as be a big contributor to the team."
What's something that your teammates don't really know about you? Do you have any unexpected hobbies or interests?
"Uhm, I'm not a super interesting person, and I don't have a ton of time to have hobbies. I'm super good at Fortnite and I enjoy listening to music!"
What is some advice you wish you could tell your younger self?
"Work more, be the best you could be, and always make your mom proud. Even if it's tough it will always be worth it in the end."
If you want to know more about being a student athlete at Vanderbilt, check out this interview I did of Sam Dobbs last year!