Advice for Move-In 2018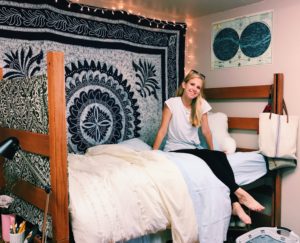 Hello everyone! I hope that summer has treated you well and that you are gearing up for the school year ahead. As I prepare to move in to Vanderbilt for the third year in a row, I thought I would share some advice for those of you joining us in the Class of 2022 this year. Moving in can be an overwhelming experience, but hopefully the following tips will help.
First and foremost, don't worry about carrying all of your stuff up to your dorm. There will be a ton of Vanderbilt students there to help move everything from your car to your room to make the process go by quickly. All you need to do is know your room number so that you can tell the move crew where to put your things.
Next, I thought I'd list a few packing items that didn't necessarily occur to me when I was preparing to move in but that are helpful for college life. These include:
Lots of different command strips for hanging wall decorations
Power strips and extension cords
A drying rack for laundry (optional, but helpful if you'd like to bring one)
SHOWER SHOES!! I cannot stress these enough they are such a lifesaver for using the shared restrooms if you are a germophobe like me (the bathrooms are kept in good condition but hey, these bring me peace of mind)
Along with things that may not come to mind when you are packing, there are things you should reconsider bringing before you move in. These include:
A printer (Vanderbilt has plenty available for use and you can definitely bring your own, but that wasn't a priority for me)
A refrigerator- you should definitely have one but it is possible to rent them from Vanderbilt so if you don't have a ton of packing room or are flying into school this is a really helpful option
A full-on medicine cabinet- there is a CVS super close to the Commons so that you can pick up ibuprofen or cough medicine when you need it
Lastly, when packing, definitely consult with your roommate to see if you all can share the responsibility of furnishing your room. Nobody needs two microwaves.
Like I said before, moving in can be overwhelming. College is a new environment and it takes some time to settle in. So, when you do arrive at Vanderbilt, take a deep breath, ask for help if you need it, and give yourself plenty of time to get around campus because you may get lost on your first trip or two (pro tip: Google Maps has walking directions to most of the buildings on campus). If you have any questions regarding move-in or life at Vanderbilt, feel free to contact me at alex.rains@vanderbilt.edu.