CC: More about University Catholic!
Thank you so much to Faith for co-writing (actually, mostly writing) this absolutely wonderful post! For more information on University Catholic, check out this tag! For more information on Christian communities at Vanderbilt, check out this one! If you're an incoming freshman and you're interested in UCat, click this link! Also, never hesitate even for a second to email me at sophia.druffner@vanderbilt.edu if you have any questions!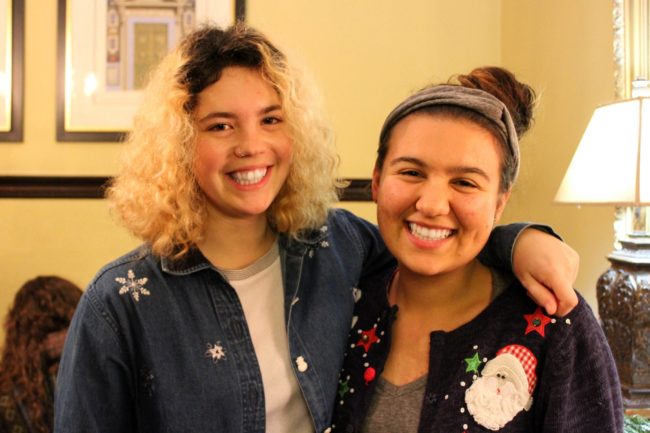 Faith: UCat (University Catholic) is the Diocese of Nashville's college campus ministry, encompassing Vanderbilt and Belmont Universities (along with developing relationships with other Nashville universities such as Fisk and MTSU). As a senior, I've seen the beautiful family and worship community at the heart of UCat, forming disciples of Christ who are well-rounded, intelligent, and, paradoxically, both fun-loving and serious in their pursuit of the Kingdom.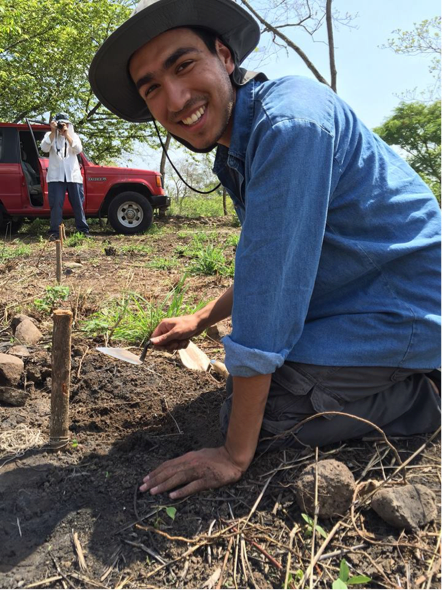 UCat has four main areas of programming, known as "pillars": Spiritual, Intellectual, Apostolic, and Human. Spiritual Pillar events include 9PM Mass on campus each Sunday with the entire UCat community (Belmont and Vandy especially!), weekly Wednesday Adoration all day (and praise and worship 9-10PM), and a variety of other group prayer activities (novenas, Liturgy of the Hours together, etc.). Intellectual pillar holds a consistent spot on Thursday's at the Frassati House (our "home" next to the Cathedral, named after our patron Blessed Pier Giorgio Frassati, who was a college student who lived in Italy. Past studies have included the writings of CS Lewis and JRR Tolkien, Theology of the Body, controversial Church teachings, Apologetics, and more! Apostolic is the core of service outreach for UCat, enacting Christian charity across Nashville (and abroad in Nicaragua every spring break with Amigos for Christ!). Some stellar outreaches include cooking and eating with men adjusting to life after prison at Dismas House, weekly tutoring at St. Pius school, and housing the homeless on campus during winter months through Room in the Inn. Last but not least, Human Pillar coordinate our social events; whether it's Easter, Mardi Gras, or Christmas, Frassati House is always ready to host awesome parties!
Sophie: As the co-Human Pillar of University Catholic, I can't tell you how much fun it is to coordinate the baking of a million cupcakes and see everyone storm Frassati after Easter Vigil. It's one of our best parties of the year, and this Spring, we had an Ice Cream/Mixed-soft drinks bar (with sprinkles!), tons of swing dancing in the backyard, and too many hung lights to count. Whatever you're interested in — learning more about the faith, playing sand volleyball, or swing-dancing, UCat has it all.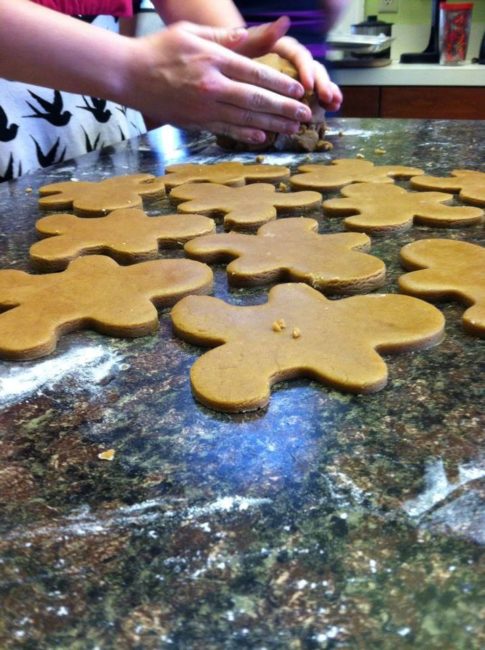 Faith: I first got involved with UCat through the Apostolic Pillar, which drew my attention due to my involvement in the Ingram Scholarship Program. I could tell UCat was a solid organization, but I was so overwhelmed that I didn't launch headfirst into UCat activities. Knowing no one on campus and intimidated by pre-med classes, I really struggled first semester to find my place and purpose at Vanderbilt. But all that changed when a sophomore friend, my Bible Study leader, encouraged me to go on UCat's Awakening retreat in October. After that weekend, I knew that Christ–and His Church through UCat–were with me every step of the journey, no matter how difficult it got. UCat has been a family since then, supporting me in both good times and bad. Frassati House is a home away from home. My UCat friends are always there to laugh, cry, play, or pray with me. And our FOCUS missionaries have been friends and our chaplains spiritual fathers, always ready to communicate God's love"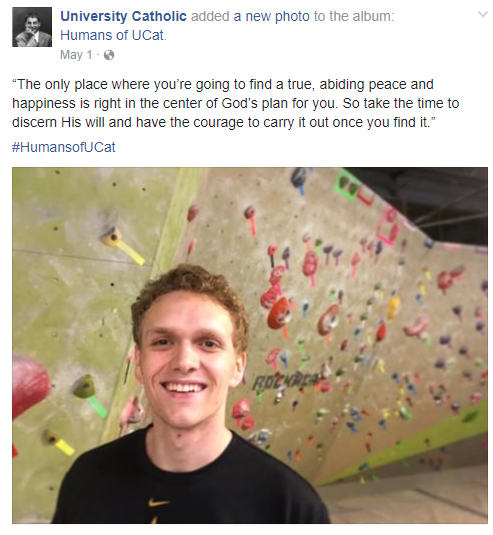 Truthfully, college is hard. It's easy to feel alone, stressed, without purpose. My favorite part of UCat is that it's a family that reminds me I'm never alone, I'm never unloved. UCat's greatness lies, however, not in its own achievement, but in its communion with the Heavenly Father. The love UCat expresses is but a reflection of His love.Therefore, I haven't just made nice friends or partaken in fun events; I've encountered Christ Himself, in the Sacraments, in the Word, in the faces of His children, each and every day. So whether your transition to Vandy is as smooth as it can be, or really really rough, reach out. Get involved with this Church family. You don't have to be perfect. You don't have to have it together. You need only be willing to receive the love that only God can give.
Sophie: Faith's definitely got it right. No matter if you're even sure you believe in God or not, University Catholic has something to offer you. No matter what your lifestyle is, we have everyone — the ones who love Greek row on Friday nights, the super introverts, and everyone in between (and there are so many). Seriously. If you have any questions, reach out to us at sophia.druffner@vanderbilt.edu and faith.e.noah@vanderbilt.edu!