Zeppos – Not Your Average Chancellor
As a Vandy student, it can sometimes feel difficult and even intimidating to get engaged with the faculty. My first class at Vandy was a Microeconomics lecture with over 200 students, and I remember moments when I would want to ask a question or even just ask my professor to repeat a certain topic, and I felt completely powerless. I was the annoying girl in high school who would ask any question that popped into my head, and I found myself missing my intimate high school classrooms where I felt comfortable speaking up and contributing. But now that I have spent a year and a half on this campus, my complex of the faculty has completely changed; I am reminded constantly of how inspiring, passionate, and surprisingly unintimidating our faculty actually is. There was one particular instance that occurred last week, and it was so impactful that it led me to write this post.
I was leaving Grins (Vandy's super popular/delicious vegetarian restaurant) last week with my older sister who is a recent Vandy grad and lives a couple miles from campus. (She actually asks me if we can go to Grins for dinner about once a week because she says she gets Superfood Wrap withdrawals, but that's beside the point.) Grins happens to be located right across the street from Memorial Gym, and as we left, we were merging into a herd of other students and fans heading to the men's basketball game. We were about to walk to her car and do our best to avoid the game day traffic, when I heard a familiar voice that quite literally stopped me in my tracks. It was Chancellor Zeppos, and he was standing outside the door. He simply asked in an energetic tone if we were heading to the game. I felt a slight sense of guilt that I was, in fact, not on my way there but was actually heading to my dorm to work on a paper that I had procrastinated. I told him with a sense of shame that I wasn't going, but I couldn't help but be a little shocked that he was even speaking to me.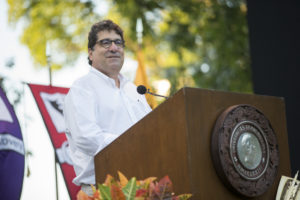 I had heard Chancellor Zeppos speak at my sister's graduation, at the Founder's Walk Ceremony, and at various events that have occurred on campus over the past year and a half. But, I had never once spoken to him personally, and I'm not going to lie, I felt a little star struck. But even more shocking was that he wasn't done with the conversation after I shamefully told him that I wasn't going. He continued to ask me questions; he actually wanted to get to know me. He has over 7,000 undergraduate students, but yet he took the time to ask my major, if I was enjoying my classes, what I want to do with my life… the list goes on! He genuinely cared! He stood there for at least ten minutes talking with my sister, asking her about her job in Nashville and how she was enjoying the post-grad years. I kept on having to remind myself that this was Chancellor Zeppos that I was talking to, because I know it sounds cheesy, but I felt as if I was just talking to a friend. All I can say is that he genuinely cared about me and my sister and about our Vanderbilt experience. His wife eventually joined in, and we continued to talk about our interests until we said goodbye, and he and his wife strolled on over to the game holding hands.
I got a sense that, as special as I want to make myself feel because Chancellor Zeppos took the time to get to know me, our interaction outside of Grins wasn't unusual for him at all. I get the sense that Chancellor Zeppos just cares that much about his students and their experience here. Now if I see Chancellor Zeppos walking across campus, I would feel comfortable asking him how his day is going and starting our conversation right where we left off, and that's a pretty cool thing.
I rave about Vandy a lot, but all I can say is that I love our faculty. They care. They enjoy getting to know us. They want us to ask questions. I don't know if Chancellor Zeppos will ever know how much that conversation meant to me—to feel noticed and appreciated by someone who I just assumed didn't have time for that. I feel lucky to go to a school where the faculty care enough to actually get to know their student body.