Mardi Gras 2017
Two weekends ago, I experienced Mardi Gras. If you've been before, you know what I mean by "experience"-no one just "goes" to Mardi Gras, you are fully encompassed in all that it is. I went with a group of friends from Vanderbilt and we definitely had a time to remember! We left that Friday at 5:00AM so we would get there in time to go out during the afternoon before Bourbon Street got too crowded and unbearable. I have to say it was definitely worth waiting until I was 21 because the bars on Bourbon are so fun! Everything is just in excess there. We spent the first afternoon and night getting used to the city and our surroundings (our hotel was on Canal Street right off of Bourbon-perfect location!) We also saw a parade that first night which was unforgettable. Catching beads that are flying at you is definitely exhilarating!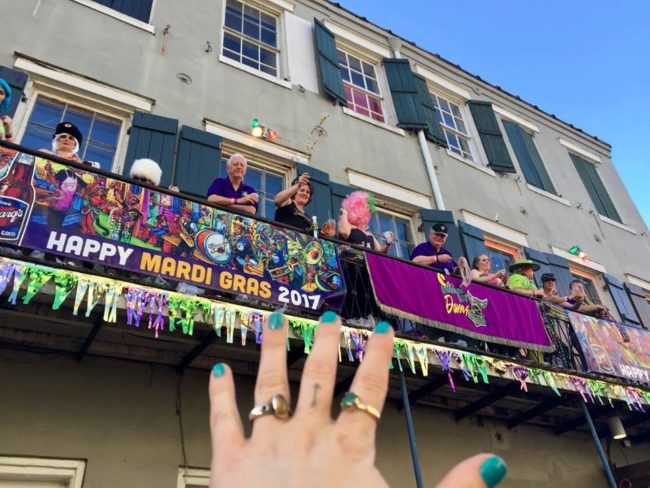 We were able to get to sleep at a reasonable time the first night (a little after midnight) since we started so early and knew we had a long day ahead of us. Saturday morning we woke up feeling rested, got decked out in our crazy outfits and makeup (I rocked some blue lipstick that I've been looking for an excuse to wear!) We went to an early parade then headed to Tulane to go to some frat parties, which was really cool because I had never seen the campus. We then hit up another parade (definitely see as many as you can if you go, they're truly incredible and it's clear how hard everyone works on them as well as how big a part of the tradition they are also they are definitely the most kid friendly part of Mardi Gras if you are travelling with children). Finally, we headed back to Bourbon Street.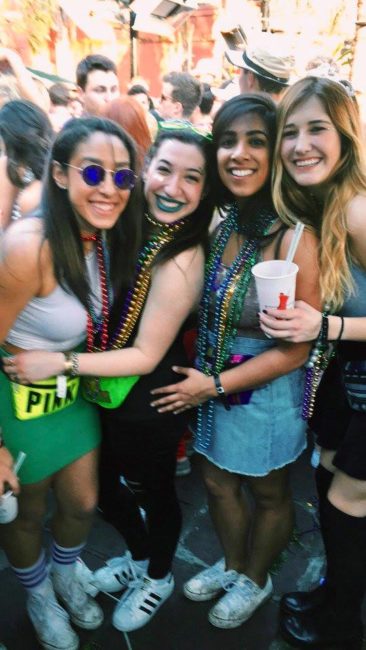 While we had been mostly eating fast food all weekend, we finally got an authentic New Orleans meal that night, thanks to my friend Adrienne who had done some research and took us to one of the top restaurants for Po' Boys, an apparent Louisiana delicacy. Even though the specialty is having seafood on them, I was able to get a veggie burger since I don't eat fish. It was delicious! And so so nice to have a real, sit-down meal, even if we waited in line for over an hour. A few hours later, and after some more time spent on Bourbon street and seeing parades (including the one with floats featuring KC and the Sunshine Band, KISS, and Flo Rida), we enjoyed another New Orleans delicacy: beignets. I swear it was like biting into heaven. We went to the famous Café Du Monde, as recommended by everyone who hears you're going to New Orleans. So, so heavenly, would recommend a thousand times over.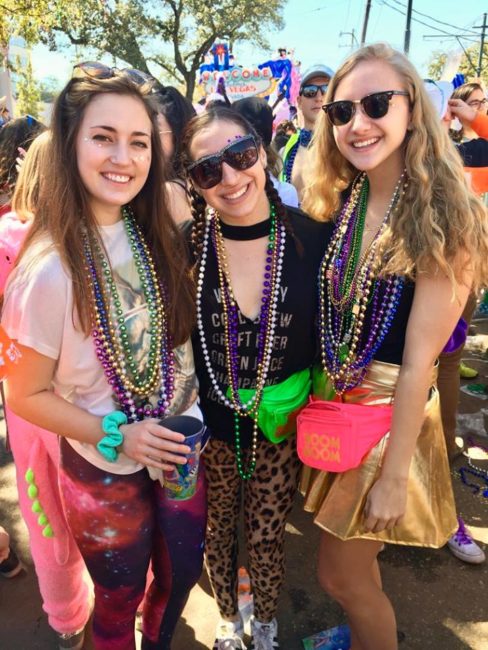 Then Sunday, we left early to get back to campus in time to get some homework done and get ready for the week! Or, if you're me, to go to the Daya concert you had already bought tickets for before planning on going to Mardi…still proud of myself that I made it! She rocked. Mardi was amazing, I definitely recommend going once (and maybe only once), and going in your twenties. We did it right.