An A&S Student's Journey through the 4 Undergraduate Schools
With job searches, graduate school considerations, new leadership positions, and the sad realization of my last year here at Vandy, last semester was a roller coaster of emotions. The one defining aspect of this year is quite unique. Last semester, I took classes in all four undergraduate schools, and I'm proudly continuing that practice in my last semester. How's that for squeezing out all that Vandy has to offer?
Naturally, when I revealed this realization to my friends, they all had the same astounded reaction — and understandably so. I'm a Math major, so I'm technically an Arts and Science student. Taking classes in the School of Engineering doesn't sound too far-fetched, since math and engineering share quite a bit of overlap. What business, then, did a math major have in Peabody College, home of Education departments and Human and Organizational Development (HOD)? Or what was I doing at Blair, the music school?
Long story short, it was a combination of taking classes relevant to what I want to study in graduate school and taking classes for the pure fun of it. As I stepped into each undergraduate domain, each place had its own flair, its own style. I may not be as informed about Engineering, Peabody, or Blair like their own students, but I can at least provide some information of the different flavors each school has to offer.
Arts and Science is as diverse as the student body itself. It's hard to pinpoint one all-encompassing characteristic of a school that houses both the department of History and the department of Chemistry. But if they did share one characteristic, it's their focus on intellectual exploration. Arts and Science makes its students think deeply, challenging each other and putting classroom knowledge into perspective. Arts and Science wants its students to find answers at the crossroads of disciplines. Many History of Art classes can count for electives in Religious Studies, African American and Diaspora Studies, and European Studies, just to name a few. In Arts and Science, answers aren't housed in one subject or discipline alone, and its students branch out to discover where else their answers may lie.
Unlike the scattered buildings of Arts and Science with their diverse architectures and winding paths, Peabody College is a nice, geometric quad that brings out its warm environment. Peabody prides itself in education; you can see rooms decorated like elementary school classrooms and entire sections in the Peabody library dedicated to children's books and classroom decorations. The only thing friendlier and warmer than Peabody's environment is its professors. Even in a class of 20, my Peabody professor made an effort to know each of his students personally, starting out every class asking what they did that weekend or if anyone got married (my class was full of graduate students — and yes, someone did get married that semester). All my Peabody friends have nothing but great things to say about their professors. Whenever a group brainstorms which faculty member to invite for a faculty-led talk or dinner, someone almost always suggests a Peabody professor. If I ever feel stressed about Vanderbilt's rigor, I like to wander around Peabody just to lift my spirits again.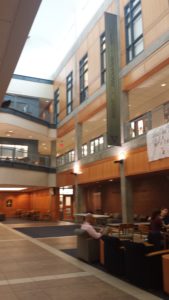 Ah yes, engineering, the field where everything has both eyes toward the future, and Vandy is no exception. Banners of inspiration and innovation line Featheringill, the home of many disciplines including Computer Science, Electrical Engineering, Civil Engineering, and so many others. With design studios, labs, and a computer lab on the second floor, Featheringill brings many resources for engineers. Of course, resources aren't enough; you need to inspire engineers to get innovative. That's why Featheringill also has creative outlets like whiteboards and legos in many common areas.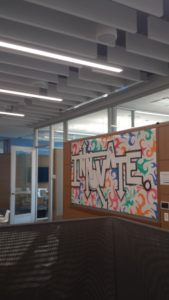 Of course, engineers don't just have one building to call home; the new Science and Engineering building is a sci-fi wonderland. The massive glass building and splashes of bright color inside can make you feel like you're at Google. If inspiration for innovation is especially salient, it's definitely in the Science and Engineering building. Vandy clearly invests in engineers, and the constant messages of engineers being the leaders of future technology can make anyone who walk these halls inspired to do their best and make the next Facebook.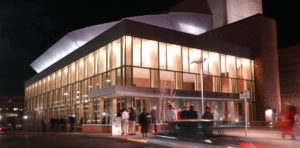 Ending my tour is Blair, the music school, by far the smallest and coziest environment of all four schools. The director of the choir I'm in, who naturally interacts with voice students, is aware of everyone's achievements and talents, including those of students outside the voice department. He even knows about other students' recitals and encourages us to attend. Blair is one close family, and everyone looks out for each other, no matter what instrument. Blair is also perhaps the most connected with the outside community, hosting performances and series around Nashville — it is Music City, after all. Last semester, we performed at the nearby West End United Methodist Church for a concert/lecture on American choral music. Another Blair choir frequently joins with Belmont for a joint concert. It's common for many visiting composers and famous groups to collaborate with Blair. In fact, the group Roomful of Teeth will join one of Blair's choirs for a concert this spring. As my conductor says, "it's our job." Collaborations like these happen, especially in the world of professional music. I don't consider myself much of a musician, but Blair challenges its students to push their skills and ideas of music, and the fact that Blair gives me access to that world is something truly extraordinary.
The best part about having all these different disciplines is that Vandy makes it easy to access any of them. You're a Peabody student that wants to take that Engineering course? Go for it; only a very few classes are restricted to its own students. Each school's walk of life is different, and it's like stepping into a new world each time I step foot in them.