Out of the Vanderbubble: Cheekwood Botanical Gardens
The weekend before mid-terms my cousin Tina, her husband Kevin, and their four-month old baby, Theodore (my first nephew!) swung by Music City for a well-deserved break as Kevin had just finished up his BAR exam. On Friday, while I was in class, they checked out the Frist, had amazing food at Adele's, and attended a Princeton alumni reunion at the Hermitage.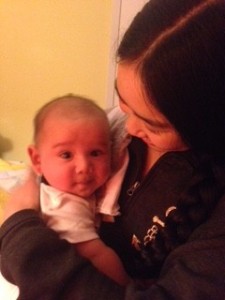 Meeting Theodore for the first time – we hit it off from the start!!
On Saturday we made the 20 minute trip down to the Cheekwood Botanical Gardens and Museum of Art, an expansive swath of land that reminded me much of Mr. Darcy's "miserable" half of Derbyshire (I may or may not have reenacted multiple Pride and Prejudice scenes by myself that afternoon). Though it was technically still winter, the clear, sunny skies and high 60s weather made the walk around the grounds very enjoyable.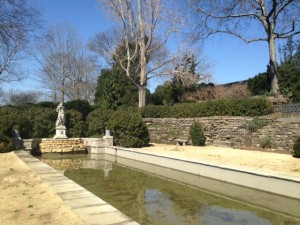 The Gardens map was centered around various sculptures by artist Steve Tobin, and there were sculptures along a wooded path a couple miles long that took adventurers deep into the land's forest area. We didn't have time to take the wooded route this time, but I'll definitely be back.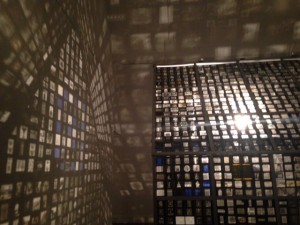 A piece by Steve Tobin entitled "Lantern House" on exhibit in the mansion.
The Cheekwood mansion, which sat atop a hill overlooking the green grounds, was impressive both in its exterior and in the amount of art it was able to hold within its walls. Preserved as a home but used as a museum, each room in the mansion housed different collections from various artists, with exhibitions ranging from blown glass vases to a Chinese porcelain collection. My favorite discovery was a back door that led out onto an ivy-encrusted balcony (cue more music from the Pride and Prejudice soundtrack) where one could look out on the landscape and appreciate its beauty from a more elevated standpoint.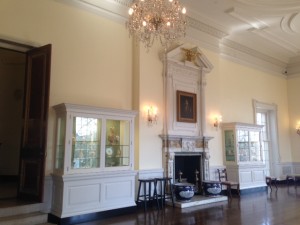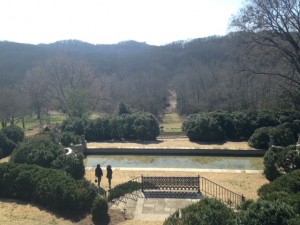 Although guests do need to pay a fee to enter (there's a student discount, though!) they are free to roam around the grounds at their leisure; Our goal is to come back in the springtime and have a nice picnic next to the fountain or behind the mansion in a cozy nook between trees.
We drove back to the Gulch for lunch at the newly opened Okatu South, a ramen joint that enjoyed great success at POP in East Nashville before opening up its own brick and mortar doors. The warm noodles and flavorful broth were a wonderful way to close up a lovely afternoon spent with family.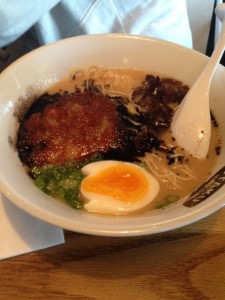 abigail.wei@vanderbilt.edu for info about Nashville, chrysanthemums, or anything in-between!!
Smiles,
Abby