Words, Words, Words
As an English major who loves literature (shout-out to my fellow literature fans who know the reference in my title), I naturally love words. So, when one of my friends mentioned she was going to a spoken word event at Vanderbilt, I immediately bought my ticket.
On Saturday, December 5th, I attended State of the Word, an event that includes Nashville's top college and high school writers, specifically spoken-word artists. Students received a special discount, so tickets were only $3 for more than two hours of performances, and the writers were incredible! (More on that in a second.) The event was mainly sponsored by Vanderbilt Spoken Word and Southern Word, although many other community organizations were involved in the creation of the show. The program was held on campus at the Blair School of Music, but it was open to the public.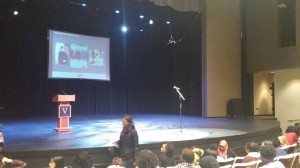 Vanderbilt Spoken Word is a student-run organization on campus that promotes and supports spoken word poetry and self-expression. Through poetry, the organization also works to break stereotypes and spread diverse perspectives. They meet weekly and occasionally hold open-mic nights for the entire student body, and they hold an annual performance in the spring. While I have been pretty busy this semester, I am hoping to get involved with this organization soon, so I will be sure to report back if I do!
As I said earlier, the writers at this event displayed unbelievable talent. I love listening to spoken word poetry, and the event certainly did not disappoint. In total, we saw more than 20 writers who shared their stories through their poetry and shed light on the issues important to them. Poetry has a unique way of connecting us all through the thread of our humanity, shedding light on our connection, holding mirrors to reality, and increasing a sense of compassion for one another, and spoken word is no different.
I had the best time at this event with one of my good friends, so I am grateful that we had the chance to go! During my college search, one of the main things I wanted in my college experience was a sense of intellectualism, and Vanderbilt has undoubtedly delivered– and it is only the first semester! From spoken word poetry events and interesting speakers to living learning communities and faculty heads of houses, Vanderbilt takes learning outside of the classroom.
Not to mention, Vanderbilt literally took learning outside of the classroom when my HOD (Human and Organizational Development) Discussion held class outside on Peabody lawn. It was such a beautiful day that we couldn't help but gather in a circle on the lawn! And to top it all off, we made it on the homepage of Vandy's website! I just finished my first semester today (yay!!), and I can safely say that this was one of my favorite discussions all semester! And with the end of my first semester and first finals week, it's time for the semester break! Happy holidays!
Stay well and be kind,
Elizabeth