Opening My Vanderbilt Decision
Tomorrow it will be a year since I was accepted to Vanderbilt through the Early Decision I round, but the excitement has yet to wear off. My birthday is December 20th, so opening my acceptance to Vanderbilt was the best Christmas and birthday present I could ever ask for.
I remember it like it happened a few hours ago– I walked up the stairs without telling my parents that I was about to open my decision to my absolute dream school. I thought that there was no possible way I could get in, so I figured I would open it by myself and deal with breaking the news later. With a pounding heart and half-closed eyes, I slowly logged into my account. It's funny, actually, that I had been furiously counting down the days, but when the moment finally arrived, my nerves prevented me from moving quickly. After I (finally) entered my username and password, I took a deep breath and clicked enter.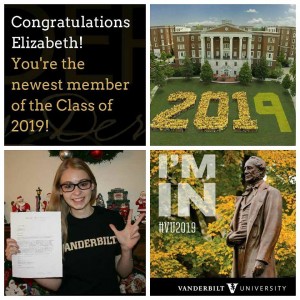 I saw the letter "C" and stared at the screen with wide-eyes and complete disbelief. The page said, "Congratulations, Elizabeth! You're the newest member of the Class of 2019!" I took probably half of a second to look at the screen before running back down the stairs and into my living room, screaming through my tears, "I got in! I got in!" Yes, it was extremely embarrassing, and no, I did not know how to handle myself in that situation. I went back upstairs to grab my computer, and looked at all the information on the screen, read my acceptance letter, and watched all of the welcome videos on the screen (and now this year, I am on the other side and am in the welcome video for the class of 2020!).
That entire night was unbelievable because in that moment, my dream came true, one that I didn't think was possible. And I won't let myself forget the moment I was accepted or how I felt in that moment because it changed everything. Sometimes when I walk around campus, I am still in disbelief, and as I said earlier, the excitement still hasn't worn off because Vanderbilt is that amazing.
For those of you who are anxiously refreshing and counting seconds until the decisions are released for the class of 2020, let me remind you to breathe and take a moment to relax (I know, I know, it's impossible). You will be okay, no matter what happens.
And for those of you who have yet to submit your application for Regular Decision, go do it now! If you are anything like me and thinking you will never get in, it absolutely does not hurt to try. There is no greater school than Vanderbilt, so don't miss your opportunity to apply.
With Early Decision I decisions set to be released tonight, let me be one of the first to welcome the newest members of the Class of 2020! We are incredibly excited to have you!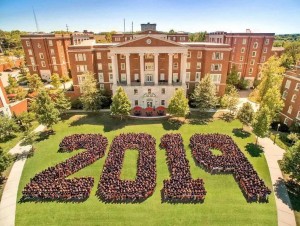 Stay kind and be well,
Elizabeth