Food Options After 12am
Almost every Saturday and Sunday morning, my roommate wakes up, eats breakfast, hits the gym, eats lunch, and takes a shower before I wake up.  I can think of two reasons for why this occurs: 1, my roommate is a freak (or a morning person) and 2, I'm as anti-morning as can be.  Honestly, I'm kind of jealous of my roommate though.  I wish that I was more like him because he seems to be way more productive than I am and he often makes me feel super lazy, but the reason why I'm not like him is because I have this bad habit of staying up late every night, even when I'm not studying or out somewhere.  As a result, I typically find myself eating late night meals to compensate for my late bedtime.  Therefore, I want to use this blog post to share with you some of the food options on or near campus that are open after 12am.  So, if you end up attending Vanderbilt and you get late night food cravings like me, you'll already know what's good.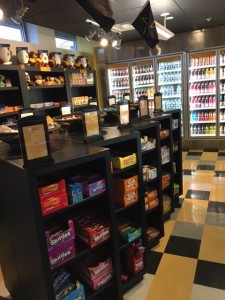 On-campus:  There are 6 small snack markets or "Munchie Marts" on Vanderbilt's campus, but only 5 of them are open after 12am on most days of the week.  Those 5 are located at the Commons, Branscomb, Towers III/IV, Kissam (Warren/Moore), and Highland (click here to find a detailed list of their hours).  During the day, most of these Munchie Marts sell hot items.  For example, the Towers and Highland Munchie Marts have sandwhich shops called Rocket Subs built within that sell food for breakfast, lunch, and dinner.  After 12am however, these 5 Munchie Marts only sell things like small snacks (fruit, candy, chips, cereal bars, etc.), drinks (soda, Gatorade, juice, etc.), microwavable items (frozen mac and cheese, frozen pizza, chicken pot-pie, etc.), and cold-sandwiches.  The positive about these Munchie Marts is that they accept the meal plan, which is nice because it's an easy way to pick up to-go food if you have some extra meal swipes left over, and a new meal period starts after 12am.  The negative about these Munchie Marts is that you can't get that much food.  One meal-swipe equates to 1 meal and 2 sides.  For me, that usually turns into 1 hot pocket, an apple, and a bag of chex-mix.  You can also use cash or meal money to purchase items if you don't have a meal swipe available or if you only want 1 item.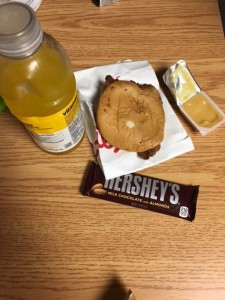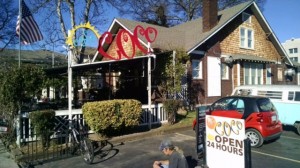 Off-campus: Café Coco is a 24/7 diner-like shop with a hipster-ish environment located about 3 blocks away from Towers.  They sell a wide variety of food, and the food is pretty good in my opinion, but they tend to be a little slow with service.  Cookout, which was built not that long ago and is located on West End towards downtown, is a 24/7 fast-food type restaurant chain that sells milkshakes, burgers, and such.  It's a little far from campus, but the food is pretty cheap, so many Vanderbilt students make the trek on the weekends.  Qdoba is another option and is probably the most popular option for Vanderbilt students because it's located right across the street from Kissam and is open until 4am on Thursdays, Fridays, and Saturdays.  Wendy's is the last option that I'll mention.  It's located on West End near the football stadium and is open until 4am every day of the week.  *Cafe Coco, Qdoba, and Wendy's are apart of the Taste of Nashville program, so they take meal money.
Just missed the cut:  Papa John's and Jimmy John's on West End are conveniently located across the street from the Towers but close at 12am.  McDonald's on West End closes at 12am as well but is near Blakemore, which is further away from main campus.
There are probably other options that are available near campus after 12am, but I just don't really go to them/ know them.
Hope you enjoyed this post,
-Jeff Yung