How to Do Halloween in College
Growing up, my favorite holiday was always Thanksgiving, because that's when my birthday is (November 28) and I also love any reason to appreciate what you have out loud and thank the people you love for being in your life. However, Halloween is a close second. An excuse to dress up as anything you want and act out a new persona for the night? Count me in! And the best thing about Halloween in college is that you don't just get to dress up once-you get a whole weekend of outfits to plan!
Everyone attacks Halloween differently. Some people participate in events solely for the free candy. Others use it as an opportunity to stay inside, pop some popcorn, and watch their favorite Halloween movies. An enthusiastic crowd, like myself, are in it for the costumes. And my friends and I love going all out. This year, I had four main costumes-that's right, four. Thursday night (Oct. 29) I went to one of my best friend's sorority date parties (she decided I would be a better date than any boy and she was totally right). We dressed up as the before and after makeover editions of Mia Thermopolous from the Princess Diaries. The outfits turned out so well! I wore a plaid skirt, high socks, blazer, and a backpack. My friend wore a nice dress, heels, and a tiara. We had a lot of fun. To fill you in on what a typical sorority date party is like, we all went out to dinner then came back to our dorms to finish getting ready before heading to the venue. Their party was held The Agenda, a night club in Nashville. The DJ was awesome and played some throwback hits that were a ton of fun to dance to, like Starships by Nikki Minaj. I can't remember the last time I even heard that song!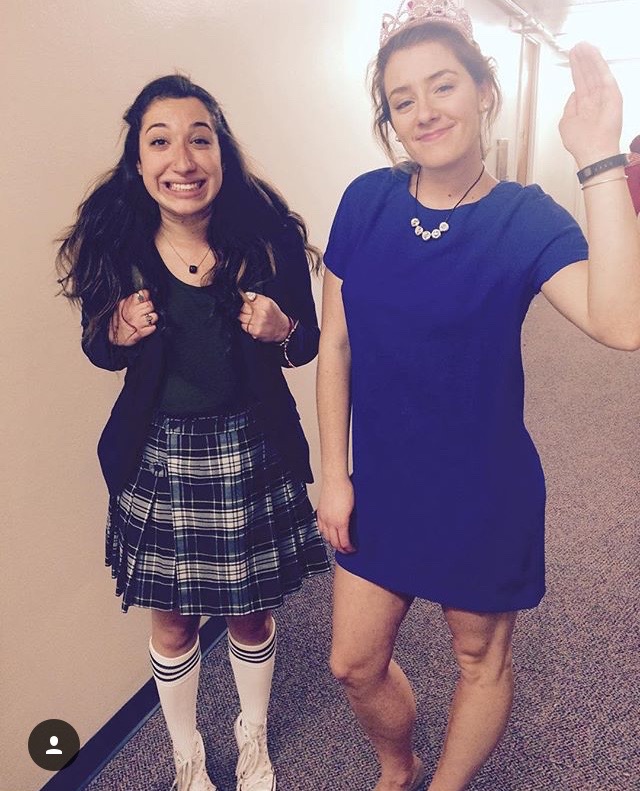 Friday morning (Oct. 30), I dressed up for the Susan Gray parade. I'm the co-president of the Susan Gray-Murray House Fellowship, an organization that pairs Vanderbilt students with preschoolers at the Susan Gray School right on campus. The Vanderbilt buddies visit their preschoolers for about an hour once a week. Additionally, we host a variety of events for the kids and their families. The Halloween Parade is one of those events. I needed an outfit that was appropriate for hanging with preschoolers, and also comfortable enough to move around in while I set up the pumpkin patch, relay races, and arts and crafts stations! I went as a soldier, wearing jeans, combat boots, camo socks and camo vest. Not my most impressive costume, but it was enough for the kids to know I was in theme. The parade was the cutest thing ever, with each costume bringing either laugher or "awwww"s. My favorite of the day was a little boy dressed as a UPS delivery man, full brown uniform and hat included.
Now I take you to Friday night (still Oct. 30). I go with another friend to his date party and after much discussion and many good ideas, we end up dressing as Ariel the mermaid and Prince Eric. I wore a velvet teal dress (the color of her tail), with a green seaweed-like sweater, strappy sandals, a shell necklace and a tiara. I tried to give myself the best mermaid-like hair as possible. My date wore black pants, a white button up, black combat boots, and a red sweatshirt pulled around his waist like a scarf. Again, we went out to dinner, went back to the fraternity house to regroup, then went to the venue! This venue was Tin Roof on Broadway, which was a lot of fun! It's awesome when events are held on Broadway because those of us who are under 21 can't really experience the night life that it has to offer. But when organizations rent out spaces for a Vanderbilt event, we just get wristbands at the door saying we're underage and are allowed in to enjoy the cool venues that Nashville has to offer! It was awesome. And it wasn't even Halloween yet!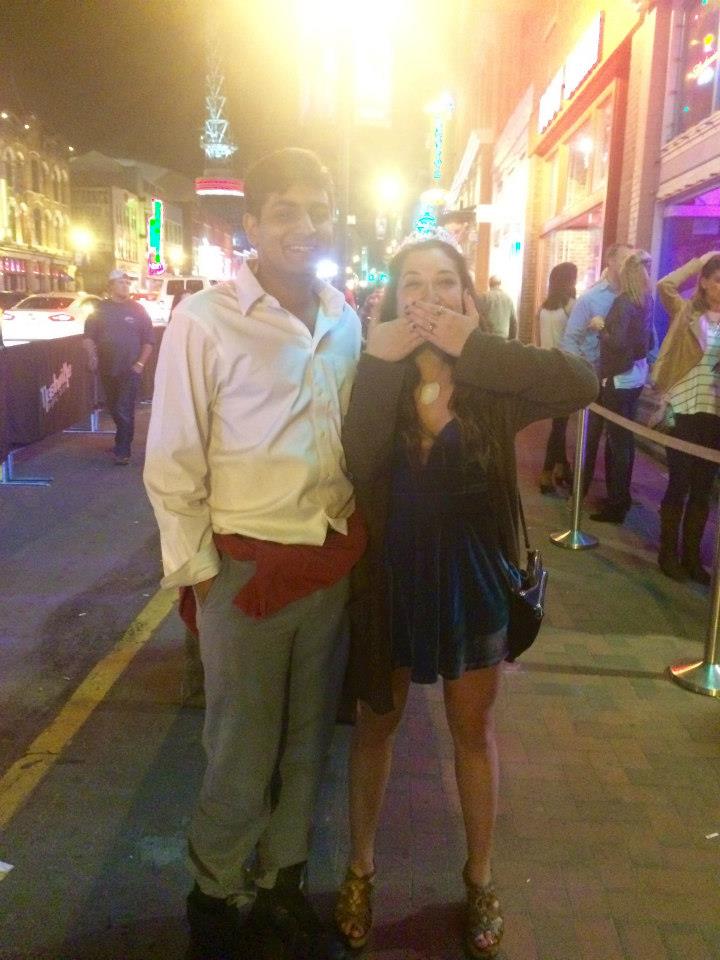 My parents were visiting this weekend, so I spent all day Saturday with them going out to an incredible brunch at Mad Donna's in East Nashville, shopping at Urban Outfitters, and buying a 12-string guitar at Two Old Hippies as an early birthday present. (I wish I could spend the rest of this post talking about that last stop we made-look out for a future post dedicated solely to that guitar.)
Finally, the eve of Halloween arrives, although and felt the same as the past few nights had with just as much spirit. Saturday night (Oct. 31), was the night of my group costume. Along with about 6 of my friends, we decided to portray the different stages of Britney Spears. We had Circus Britney (me), Oops I Did It Again Britney, Hit Me Baby One More Time Britney, General Pop Star Britney, Denim Britney, and lastly but definitely the most brave, Bald Britney. That night we went to the fraternity parties on campus and sang Britney Spears songs to ourselves even if no one else wanted to hear them.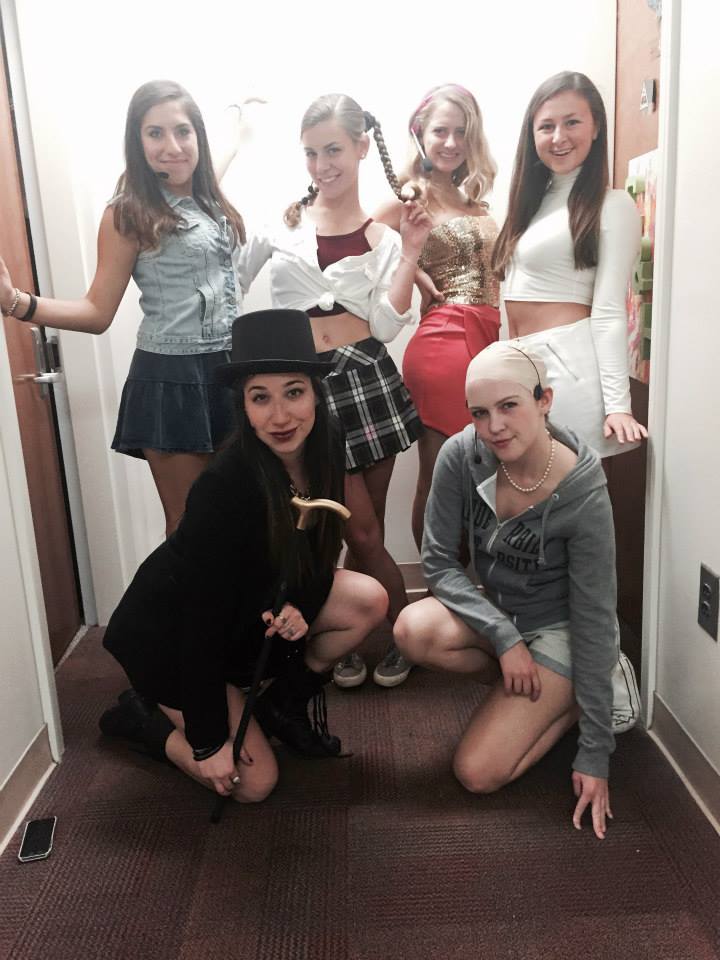 All in all, Halloween this year was far from disappointing. Even though I clearly went all out with costumes and festivities, it really is a holiday where you can make your own traditions. Maybe next year one night I'll host a scary movie marathon in my dorm and invite friends over, candy included obviously. What's so much fun is that here, if you want to partake, the celebration is stretched out and displayed before it actually approaches. Across campus, dining staff give out free candy. There are costume competitions and events like a 5K where teams all dressed up. There was trick-or-treating for kids organized by all the Greek houses and athletic teams. And lots and lots of free food (Vandy's favorite giveaway). So no matter how you celebrate Halloween, do it up big. Whatever that means to you, Vanderbilt is the place to create traditions and then to own them. I hope you too had a safe, happy, and really fun Halloween!