Fall Break Adventures!
Last week, I was stressed out about midterm papers, missing my friends because we were all too busy studying (or pretending to at least) to hang out, and more than a little worn down. All week, though, I had something to look forward to — Fall Break! As a sophomore, my life has definitely picked up speed this year, and a break has never felt more needed. Lots of people look forward to Fall Break as a chance to get home, relax with family, and maybe see some high school friends. Or, they pack up a car and head to the beach. I was just as excited as those students, but I was excited to stay in Nashville for a long weekend of good friendship and the start of fall.
One of the greatest things I'm discovering about Vanderbilt is that we get to live in the state of Tennessee, which has some absolutely gorgeous places to visit. On Thursday, my friends and I woke up early. Real talk, it was only 8 am, but that's much earlier than my usual 10! Five of us piled in my friend's car, and drove to Rock Island State Park, which is about an hour and a half from Vanderbilt, and is chock full of waterfalls and beautiful nature-y stuff!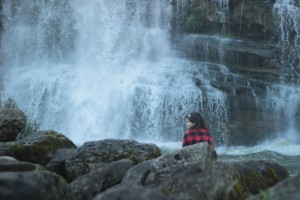 It was so cool to watch the city disappear, as we left the freeway behind and traveled roads lined with farmhouses, cows, and even some donkeys! I legitimately almost jumped out of the car to hug a fluffy sheep, but one of my friends held me back. When we finally arrived, the view was breathtaking, and it felt like I was in an alternate reality. Not a single thought of homework crossed my mind, or my job, or the busy parts of my life.
Friday morning, the fun started all over. A bigger group of us met up at Lupton, which is a part of the Branscomb Quadrangle (where most sophomores live). I was all dressed up, as we were going to spend the day picnicking at a vineyard! The weather was beautiful, and I could not have asked for a better day!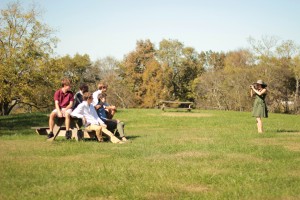 Vanderbilt is usually so busy, and the campus is so filled with life, that Fall Break feels quiet. Campus Dining closes most of the dining halls, which gives me a little extra nudge to use my Meal Money on the restaurants that are on the Taste of Nashville program. This means that I can use my Commodore Card to spend money that is part of my meal plan on local restaurants in Nashville! I love that Fall Break becomes a time for me to spend quality time with my friends exploring my second home in a broader way than I can normally do during the school week; while some people are enjoying the beach, or marathoning House of Cards on their couch at home, I'm seeing Nashville (and Tennessee) in a completely new way, which makes me feel more at home here than ever!