College Scholars Honors Seminars: The Microbiome to Italian Film
"On the Road with Axle."
The pamphlet appeared in the mail at the beginning of August and as soon as I opened it, I became enthralled with the language. Finally, here were people who took college seriously! And it was awesome to be able to look at all the fascinating choices. Shakespeare and Music! Neurolaw! And my favorite: Walking in Nashville!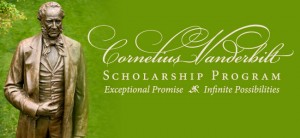 Imagine my surprise when the counselor told me that instead of taking a FYWS (First-Year Writing Seminar), I could take an Honors Seminar instead, through the College Scholars Program! Oh, how I love the Cornelius Vanderbilt scholarship! And then, imagine my dread when I looked at the list of seminars and found that the easy-looking one, "Love and Friendship," was taken. All that was left was "Why is Biology Complex? Biology and the Mathematical Sciences."
The first day, the professor (Professor Wikswo, who is SO amazing) gave us an equation that depicted our learning curve. There were derived variables for the rate at which we forgot knowledge, the rate at which we retained things we had learned… there were at least five derivatives and I couldn't help but smile. This was going to be a great class.
And it has been. From learning about principal component analysis to Godel's Incompleteness Theorem, there have been so many amazing points in this class. With a room filled with sixteen or less College Scholars from all majors and years, the breadth of knowledge is amazing. Everyone has so much to offer and learn from; in College Scholars; here, you can find people who tear up over photosynthesis or who zoom in and out on a prezi of the universe for a study break because the comparison of quarks to our Sun is just too awesome. You find the people you came to college to meet, who love the microbiome just as much as you do.
Recently, the freshman Cornelius Vanderbilt Scholars (who are part of the College Scholar program through the scholarship, although 30 people in the freshman class are chosen every year to be inducted into the program), have decided that we would like to make College Scholars more of a program. The Ingram scholars are usually the closest, but we have a GroupMe now and next Thursday I've organized a soccer game and dinner for us! I can't wait to meet all the rest of these incredible people. Various members of our group are also working on a speaker series and potentially using our $6000 stipends for research experiences or study abroads (one-time) for the benefit of serving others, such as building water irrigation systems in a developing country!
I'm so excited for what is to come (an Italian film seminar next semester!) and incredibly thrilled to know that there are people out there who love to learn just as much as me. Together, we're going to turn the College Scholars Program into the best scholarship program on campus.
If you have any questions, feel totally free to email me at sophia.druffner@vanderbilt.edu. I would LOVE to hear from you cause you're AMAZING!!!!!!
ever most sincerely,
SOPHIE!!!!!!!!