Why I'm Thankful for Vanderbilt Greek Life
After going through recruitment at the beginning of my second semester at Vanderbilt, I became a sister of Kappa Kappa Gamma, but this post isn't titled 'Why I'm Thankful for Kappa' for a reason. Not that I'm not — my sisters are hilarious, easygoing and an amazing group of people who I'm lucky to have in my life — but by the nature of Greek Life at Vanderbilt, Kappa wasn't the be-all and end-all of my experience.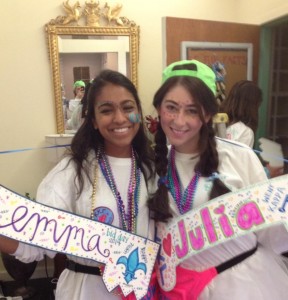 At so many schools Greek Life means one set of letters that completely define your experience — who you live with, eat with, socialize with — everything. But in my experience, Greek Life at Vandy has been the complete opposite. The delayed recruitment process coupled with the small size of the houses (fraternity and sorority houses house six people on each chapters executive boards only), have, in my opinion, really allowed Greek Life become complementary to students' social lives, and in terms of my experience, it was the catalyst that brought me to the people I now consider my closest friends.
Joining Kappa brought me into a group of nearly 200 people, the vast majority of whom I had never met before recruitment. In that first semester, I became especially close with a few girls in my pledge class, and through them I got to know their roommates, girls on their halls, people they knew — many of whom were not in Kappa themselves — and very quickly I felt Vanderbilt's campus start to shrink. Rand was no longer a sea of unfamiliar places, and walking across campus was no longer a solitary activity. There was always someone — whether it was an older Kappa who spotted me in my new letters, someone from my pledge class, or people who I'd met through my new sisters — to sit next to in class, to walk with to Commons, to go out with on weekends, and to become friends with.
This year as a junior, there are are three different sororities represented in my six person Towers suite, and in the group I consider my best friends at school, but had Vanderbilt not had a delayed recruitment process which allowed freshmen to get settled and make friends before becoming a part of the Greek community, the friends I made when I joined Kappa may not have gotten to know other girls, let alone end up introducing us all during our freshman and sophomore years. I can't help but think that my experience would've been vastly different and I may've missed out on meeting some of the best people for me.
Joining a sorority wasn't always something I was excited for — I was skeptical at first, and completely understand how it might not interest everyone. But for me, becoming a part of one chapter opened up a whole community — a community I now couldn't imagine my experience at Vanderbilt without.