The VU from the StamBalcony
Hey guys! So today I want to talk to you about one of the best parts of the freshman experience at Vanderbilt…the Martha Rivers Ingram Commons! As you may already know, all first year students at Vanderbilt live in one of ten Houses on the Commons: Crawford, East, Gillette, Hank Ingram, Memorial, Murray, North, Stambaugh, Sutherland and West. Having freshman-only housing all in one place is great because it makes it so easy to meet new people and make new friends, especially during the first few weeks, and provides a strong sense of community which really helps with the transition to college. It's also super convenient because you can get home easily and safely at night if you've been hanging out with friends at a different House, for example after a spontaneous 4am Super Smash Bros gaming sesh (yep, that's happened) or after pulling an all-nighter to get that group project done on time (that's happened too).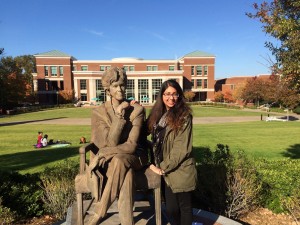 A unique feature of the Commons is that each House has a live-in Faculty Head of House to act as a mentor and role model, both academically and personally, which creates a really cool living-learning community. Don't worry, the Heads of House are not there to act as your parents and check up on you or tell you to turn your music down. However, they are always there for you if you ever need help (or just want to chat and have some tea and yummy healthy snacks, as in the case of my Head of House, Stambaugh superwoman Alice Randall!).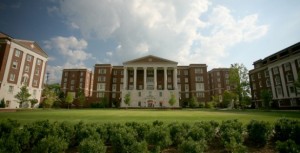 If you've been looking into applying to Vanderbilt, you may have already seen the House that I live in. With its colonnades and marble staircase, Stambaugh is one of the most beautiful Houses on the Commons and its picture is used all over in Vanderbilt's admissions information. In particular, what Stambaugh is really famous for is its balcony. Boasting some of the best views of Vanderbilt and downtown Nashville (you can even see Taylor Swift's apartment!), the StamBalcony is one of the gems of the Commons.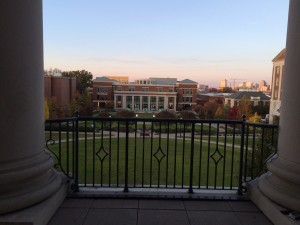 But to me, what's even more impressive than the view from the StamBalcony is what actually happens on it. In any one week you could be having dessert with influential speakers and professors, singing along in an impromptu jam session, networking at Stambaugh social events or just hanging out with friends under the moonlight. And as cheesy as it sounds, there's always something going on and there are so many opportunities to meet new people, share different ideas and broaden your horizons.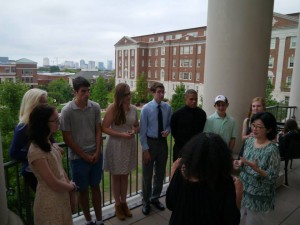 I know that this is a stressful time right now for those of you who are going through the college application process and that the multitude of essays, supplements and interviews can feel completely overwhelming – trust me, I've been there. But please stick with it! As I sit out here on the Balcony writing this post, I feel so fortunate to be part of this amazing Vanderbilt community and I can tell you that the hard work is definitely worth it.  I wish you the very best of luck with your applications and hope to see some of y'all out on the StamBalcony next year.
And as always, if you have any questions or just want to get in touch, please feel free to shoot me an email at ishani.pabari@vanderbilt.edu – I'm looking forward to hearing from you!