Glimpse into Greek
One of the smartest things Vanderbilt does is delayed rush in the spring. Even though there's a ton of complaining from the freshmen girls aimed at the lack of t-shirts and goodies first semester (ughhh), we're grateful by the time formal recruitment rolls around. When I am in a sorority, I'll have already made friends that will be in all different houses.
For those of you (like myself) that come from somewhere where sisters are only by blood, recruitment went totally over my head upon my arrival at Vanderbilt. What do you mean I can't be facebook friends with a sorority girl? Luckily, I wasn't alone, and you aren't thrown into the process right away. Everyone, from your Gamma Chi to the President of Panhellenic involved is helpful from registration to Preview Day and beyond.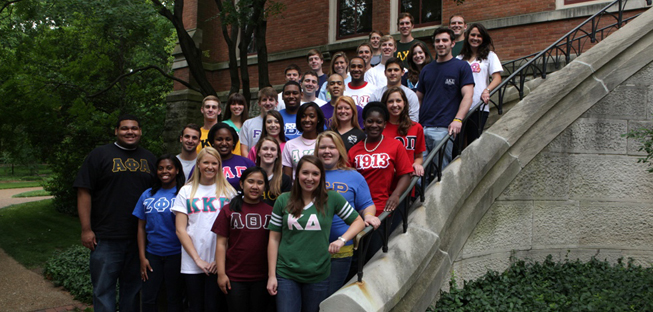 One of the best ways to ease your way into the Greek system for girls and learn what each house is all about (and it's different for boys and girls) is each chapter's philanthropy event in the fall. All the ticket proceeds go to the house's charity. The event usually has a catchy little name and begins with a dance choreographed by the girls followed by a mixer with the active members and attendees. 
Warning: There will be times when you question whether you're at a philanthropy event or an airing of So You Think You Can Dance. Be prepared.
These events include:
KD Kosmo
Alpha Delta Pi's Carnival
Pi Phi in Paradise
Zeta Tau Alpha's Grand Slam
Kappa Kappa Gala
Chi-O Fashion Show
AOPi's Rock On Omnicron
Delta Underground
Alpha Chi O's A Rose Benefit
Theta BBQ
Lambda Theta Alpha's benefit for St. Judes Children Research Hospital
Sigma Gamma Rho's benefit for National Education Fund
A massive factor in choosing a sorority is the charity it's affiliated with. By going to these events with friends, you meet a ton of older girls, get a feel for the house and will probably wind up eating a huge amount of scrumptious free food. Thanks to the delayed rush process, my friends and I are headed toward recruitment with fewer nerves and a better idea of what's to come.