An Evening at The Bluebird Café
What is this, I hear you say, two blogs in two days?! What a treat!
Yup, oh how I spoil you.
So anyway, as I promised in my last blog, here's an update on how my first ever Thanksgiving break is going so far. Lately, I've started exploring one of the best things about being at Vandy – the Nashville music scene. As you probably know, Nashville is the home of country music and is also known as Music City, USA. Until recently, I had zero knowledge about anything country music related (unless you count my embarrassing tween Taylor Swift obsession when I was 12… but I'd rather we didn't linger on that). Then last year, I started watching a TV programme called "Nashville" and I immediately became hooked.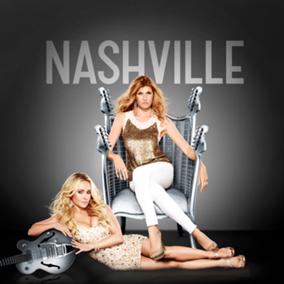 The show, starring Hayden Panettiere and Connie Britton, follows the lives of country music legend Rayna James (Britton) and the up-and-coming diva Juliette Barnes (Panettiere) as they vie for fame and struggle to keep up in the ever-changing and ruthless music industry. The show is actually filmed right here in Nashville, and one of the characters' favourite haunts is a place called the Bluebird Café. The venue just a 10-minute drive away from the Vanderbilt campus, is a world-famous intimate club and listening room where the best country singer-songwriters come to perform their original music.
Naturally, since arriving at Vanderbilt, I've been really wanting to visit.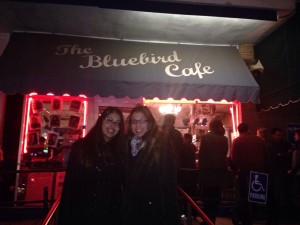 So when I found out that the Bluebird Café was hosting a benefit during Thanksgiving break for Open Table Nashville, an initiative set up to combat homelessness and poverty this city, I jumped at the opportunity to go. The benefit featured rising stars Erin Enderlin, Jo Eldridge, Mike Younger and Justin Ebach. In addition to being able to hang out at the set where my favourite show is filmed, what I particularly loved about the event was how personal and intimate it was. The Café is a very small venue and the artists sat in a circle in the centre of the room, performing their songs in a round and telling stories about their influences and experiences as musicians. Each artist had a very different musical style, from deep country to more upbeat pop, but the amount of emotion in each song and the sincerity of each of the performers was simply amazing. I was thoroughly moved.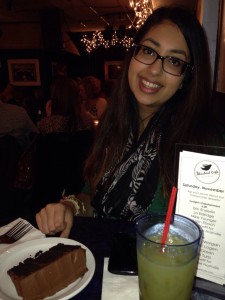 It's hard to put into words just how amazing my night at the Bluebird Café was. If you're a fan of country music, I would urge you to go at least once and even if you're not, the talent of the performers might just change your mind. This was one of the best evenings I've had in Nashville, and the fact that the benefit was helping Open Table Nashville made it even sweeter.
Oh, and so did the amazing chocolate cake they served.
Stay tuned for more updates later this week as I have my first ever Thanksgiving meal and go to the final football game of the season against Tennessee.
See you then and Anchor Down!