A Breakfast Breakdown at Commons
When I was registering for classes for the first time last summer, I thought it would be great to sign up for the earliest classes possible, so that I could have the afternoons off. What I didn't take into account, however, was the fact that I would have to wake up. Early. Sometimes, (okay, all the time), when my alarm goes off, it's pretty difficult to drag myself out of bed.
That is, until I remember one thing: COMMONS BREAKFAST.
Yes, I am one of those crazy first-years who actually goes to the Commons dining hall in the morning to eat a full breakfast. And let me tell you, it's completely worth the half-hour of sleep that I have to sacrifice to get it.
You probably still don't believe me, so let's take an in-depth look at the wonders of a breakfast at Commons:
On Mondays, Wednesdays, and Fridays, there is a full-on omelette station. That means  you can get a delicious fried omelette, made with whatever ingredients your heart desires. Bacon bites? Check. Green peppers? Check. Mushrooms? Check. Omelette days are the best days.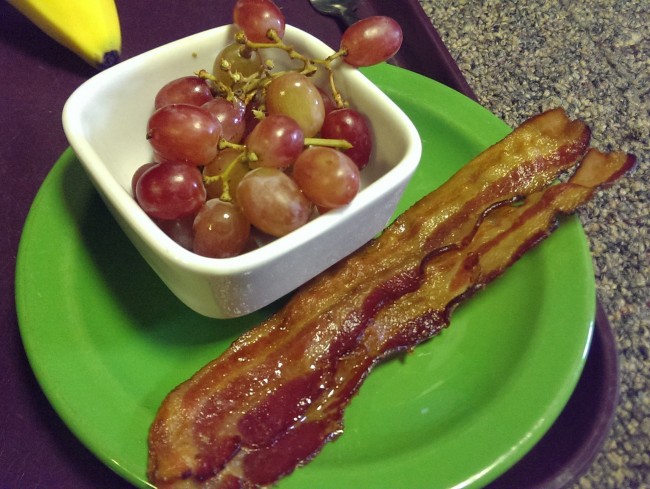 There is also a station where you can choose from a selection of bacon, sausages, eggs, and my personal favorite, breakfast potatoes. I kid you not, these are the most delicious potatoes you will ever taste. And I hear they're not served at Rand, which is the major dining hall on Main Campus. So I'd better enjoy them while I'm still living on Commons. (I mean, that's what I tell myself when I'm getting them for the 100th day in a row…)
If you're feeling a good old Southern breakfast, Commons serves biscuits, gravy, and fried chicken galore. To be honest, I am still getting used to the fact that these count as breakfast foods.
One of my (many) favorite part of Commons breakfast is the waffle station. Waffles are made-to-order, and you can choose between either a regular or a multi-grain waffle.That's not all, though. After your waffle is ready, you get to choose from a selection of delicious toppings, including chocolate chips (which melt onto your warm waffle…mmm…), fruit, whipped cream, sprinkles, and other goodies. And on special days, the waffle station is also home to some pretty exquisite pancakes and French toast.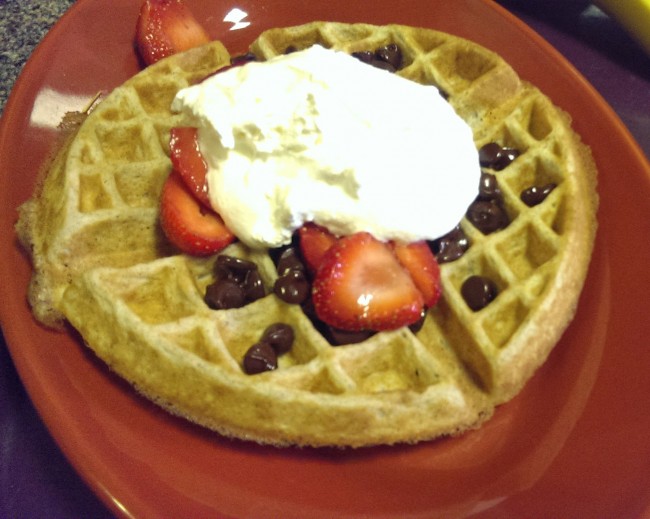 Another key element of the Commons breakfast is the yogurt bar, which, as you probably could guess, is a land of parfait-making fun. I swear any fruit you could ever want is available: mangos, raspberries, blueberries, pineapples – you name it.
And, of course, if you're feeling traditional, Commons provides an abundant selection of cereal, juices, and an ever-rotating selection of pastries and bread-like items. I am a fan of the bagels, which you can toast yourself and even cut with this cool bagel-cutter mechanism.
All of the choices may seem overwhelming, but here's the greatest part: you don't have to choose just one. The first-year meal plan here lets you get an entrée and three sides, three meals a day, EVERY SINGLE DAY of the week. It's pretty exciting.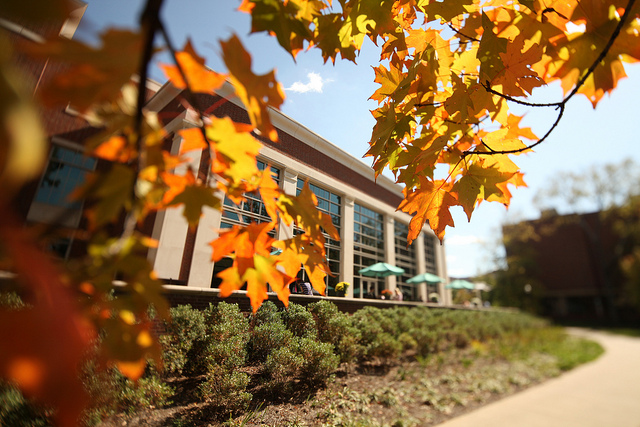 If you didn't catch this, I'm pretty obsessed with Commons breakfast. There's so much selection that you'll never have to have the same thing every morning. And nothing beats the feeling of walking into the Commons Center, bright and early, thinking about all of the possibilities for your morning meal.
Or maybe that's just me. But either way, fellow first-years, if you're sleeping through your breakfast meal swipe, you're missing out.