Jae Goes to Bolivia: Country Roads [Part 6]
During my second week, my designated rotation was at a small general clinic out of the city limits. As the locals call it: el campo, the countryside.
As the second week started in my adventures, my Spanish speaking capabilities were slowly improving as I continued to watch TV during my nights where they would show great films with Spanish subtitles such as Titanic, Harry Potter and Jerry Maguire. All of my favourite movies. It could only have gotten better if they showed Top Gun.
With my new improved espanol, I headed off to my new rotation site: a small, general clinic 20 minutes outside of the city. Katrina, the program director, had told me to take a taxi to the clinic. Little did I know, this "taxi" was just a bunch of cars lined up on the corner of a street and you would get in and wait twenty minutes and hope you arrived at your destination. It was a bit sketch and I think I'm lucky I didn't get TAKEN.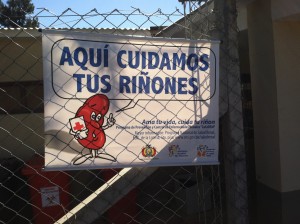 When I arrived there, I met with Dr Eva, who I would be shadowing for the week. She explained that this was the clinic of the town of San Lorenzo and that it was one of the few dialysis centres in Tarija. I think the banner in the picture says, "Here, we take care of your kidneys."
Later on in the week, Dr Eva and some other doctors and I went in an "ambulance" to do some home visits with patients who were unable to come to the clinic. The ambulance was actually just a large van that had a bench/stretch built into the back. It was a great experience being able to enter the homes of these people who lived in the countryside and to be able to bring medical care to these patients who were in large need of it. As this type of service is the kind of work that I want to do with the rest of my life, it was an amazing preview of what it all entails.
Lastly, these twenty minute drives out into the country gave me enough time to sit in the car and listen to some good old T-Swizzle and admire the mountains of Bolivia, a truly breathtaking scenery.