Twenty-one is Twenty-fun
Those who have known me a while know that I love my birthday an unreasonable amount. I have been known to quiz friends and acquaintances alike throughout the calendar year on the exact date of my birth, until it is drilled into their heads. I took a Megabus from Chicago to Nashville for a 10-day stay just so I could celebrate my birthday with my Vandy buds. April 26th is a HOLIDAY.
This birthday, my 21st, was no exception. My suitemates, Larny and MK, planned my birthday down to the minute and kept me running around Nashville with a smile on my face all day. They also knew my favorite kind of dessert, which deserves some major brownie points (no pun intended).
Here's the play-by-play of my big day:
I returned back to our suite the night before my birthday at 11:59 pm, and I received a hearty rendition of Happy Birthday from my whole suite right at midnight. Our living room was already heavily decked-out in birthday streamers and ridiculous 3D cupcake wall hangings, and I felt loved, to say the least.
For breakfast, we drove to Pfunky Griddle, where we cooked pancakes and potatoes on the grill in the middle of our table. The fun continued as we showed Mary Kate's sister and her friend around Nashville, making stops at Fannie Mae Dees Park (affectionately nicknamed "Dragon Park") and Grimey's Record Store. I treated myself to a $3 Spice Girls CD because, come on, what a great deal.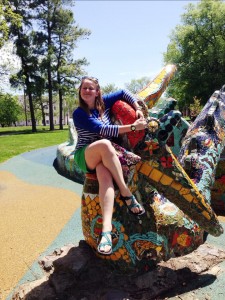 I made Mary Kate pull over at the nearest Sonic because I had a birthday coupon for a free drink! I actually have 20+ coupons for free birthday food items at various restaurant chains because I went on a loyalty program sign-up spree last summer, but that's another story completely. My sweet tea didn't come out for 45 MINUTES, but I couldn't be bothered with impatience on the best day of the year.
The next event on my birthday itinerary was a surprise scavenger hunt all around Vanderbilt's campus. Mary Kate had coordinated the hunt via Google Drive with a handful of people from each of my friend groups, and each clue led me to a location and a fun friend! This was genius because most students are studying hard for finals this time of year, so the scavenger hunt allowed friends to see me briefly without taking them away from their flashcards and cramming. I walked back and forth across campus for 2.5 hours, so I was pretty wiped out by the time I made it to the end point, the BCM. There, fellow BCM-er Dave played his guitar and serenaded me with Happy Birthday. I should have kept count of how many Happy Birthdays I heard throughout the day.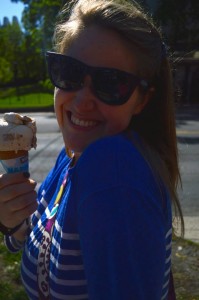 But wait, there's more! Fifteen of my friends piled into vehicles, and we made our way to The Local Taco for dinner. A margarita was already waiting for me at the table, which was peculiar since I hadn't ordered one. Fellow Texan Mad Crank giggled uncontrollably and admitted that she had bought it for me. I had to give it a try, as it's sort of a rite of passage for 21-year-olds, but it was not tasty at all and I made a horrible face in my typical fashion. Oh well; I have my whole life to appreciate alcohol, so what's the rush?
Twelve people stayed with the group as we made our way to Laser Quest downtown for a game of super-intense laser tag. MK and Larny really do get me. After the game was over (I came in a respectable 7th place, out of 20 people), the friends sang me Happy Birthday once again, and the Laser Quest employees began to shoot me with what can only be described as a roll of toilet paper attached to a leaf blower. They also handed me a plush dinosaur toy to keep, and I realized that most birthday parties celebrated at LaserQuest are probably for 8-15 year old boys.
The birthday ended with Dairy Queen Ice Cream Cake in the BCM and a few more rounds of Happy Birthday. I've said it before and I'll say it again: birthdays in college are the best.