Pancake Breakfast Pals
8:45 AM is early, but not too early for Pancake Breakfast!  My suitemates and I hosted a grand total of three pancake breakfasts a semester, each one more fabulous than the next!
One of the more recent pancake breakfasts was announced over Facebook like so: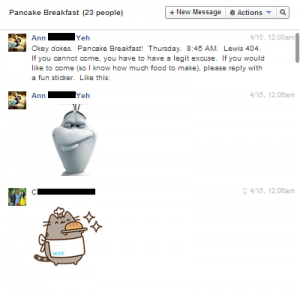 This year was the perfect year to host this kind of event because most of these friends lived just a quick step away from our suite in Lewis House.  The only exception was this this one guy named Pops, who trekked all the way over from Towers.  Oh, what we do for good company and free food!  We were so glad he came.
What an event!  Eighteen of us made ourselves cozy in the living room.  We feasted on pancakes, chocolate chip pancakes, eggs, and a cornucopia of fruit, generously brought to us by suitie R. and the Munchie Mart.  While this little Lewis kitchen is already quite snug for one, at a certain point, I was flipping pancakes in there, my friend Money was filling up the Brita water, H. was grabbing some plates and forks, and R. and her visiting sister were prepping the fruit.  Stress-free organized chaos.  Love it.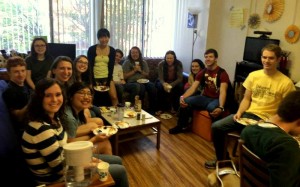 Slightly sugar-high from the syrup, we chatted about finals, how we wished they would be done and over with, our post-finals summer plans, and life in general.  It was a grand ole time with great conversation and much laughter.  My plan of converting the world into morning people is becoming actualized.  Eventually, people trickled out for their classes.  Our buddies Narp and Georgeous, whose first class was at 1 PM, stayed over and conquered the dirty dishes.  Georgeous was so enthusiastic about drying that he dropped a glass pan.
I have to tell you that funny little anecdote.  Georgeous felt so sorry for dropping R.'s dish, and R. was trying to reassure him, saying, "No, it's okay, it's old and it's been passed through our family."  Essentially, Georgeous broke a family heirloom.  We kept teasing him with things like, "Man, we can never go barefoot in the kitchen again.  Thanks for shattering our dreams," and "Well, I guess that's one less thing to put in storage."  This was all quite funny, because R. dropped my mug a few minutes later.  This morning cracked me up.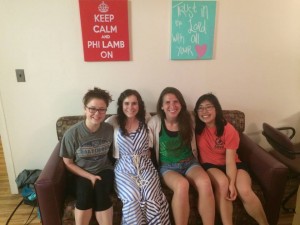 The key to a great morning is six cups of Bisquick, a dozen eggs, and wonderful friends with which to share it.